Sitting here watching the most excellent premiere of Dirty Sexy Money and eating garlic baked fries in a post-gym stupor, I finally came to terms with the fact that not only will I never look good in a flowy-schmowy, tunic-length girlie top but that I will never understand the whole concept.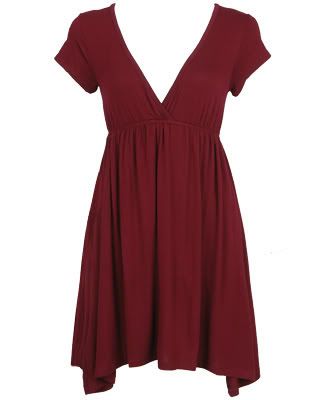 I mean, sure, that's a cute color and everything, but what is the attraction, ladies? Why the low-cut boobie-showing with the flowy, waist-covering bounty of fabric below? Sure, if you've got 'em, flaunt 'em but you still look slutty in my book. The top may make your waist look long--too long, who wants a waist that goes down to their thighs? you are weird.--but I find that women who are well-proportioned look the best when wearing well-proportioned clothing. Oh, yes.

Ladies, ladies, ladies. If you are shapeful enough to pull off the tiny boobie-part, why hide your glorious other lady-parts? And for God's sake, I hope you're wearing pants with these tops, because we are not in ancient Rome. (Sidebar: put away those gladiator sandals, they are gross.) Don't get me started about the low-cut EMPIRE-WAIST BABY-DOLL tops that abound in stores lately, what are you, a skanky infant whore? Boooo.

Booo, I say. But maybe all this anti-tunic-length-top venting is because I am rather shapeless on top. I have great gams (as Miss Skinny Minnie Jeanne told me once, and I was like IT'S SO TRUE, LOOK AT THESE LEGS, BITCHES), with a torso in progress. It's taken me several years, but I have learned that I look SUPER-SMOKIN' HOT in more structured tops, like blouses with seams and tailoring and buttons and gorgeous little things. See, how comfortable am I with my body shape?

That said,
here's a tunic-length sweater I'd wear if I had no other choice--CHECK OUT THE SWEET SLEEVES. Another link for you all to check out, even if it seems a little sketchy: MyShape.com, it's supposed to teach you how to dress for your body shape--always useful, right?

Images from forever21.com and bluefly.com.