Since it's about time that everybody's New Year's resolutions have become complete wastes of time, I have decided to embark upon a rejuvenation program. Seriously. My life is, just like the American economy, suffering from stagflation--nothing new is happening (stagnating), but life still costs more money and I'm getting kinda chubby (inflation...?). I need an injection of exciting newness before I collapse of boredom. What's better than making lists in this kind of situation? Let me share with you my new favorite...well, everything! It never hurts to try something new, isn't that like the spice of life? Variety, right?

MY NEW FAVORITE...
BAND/ARTIST: Hello Saferide, from Sweden. Not only is her voice completely adorable but street-smart and a little world-weary in the manner of Emily Haines' (of Metric) solo albums, El Perro del Mar, or Rilo Kiley/Jenny Lewis, if you will, her website and blog are adorable. I like to think that I am getting in touch with my Swedish ancestry by listening to all this new Swedish music (didn't you know that Scandinavia is WHERE IT'S AT? remember Saraha Hotnights?), but my Swedish-Japanese heart just cannot resist a great music-y blog with lines like this: Advice for all other songwriters: try to include a multi-instrumentalist with Japanese heritage in your band. It really comes in handy when you go to Tokyo and need someone to order food, and weird drinks in karaoke bars. "The Quiz" (Would You Let Me Play This EP Ten Tmes A Day?)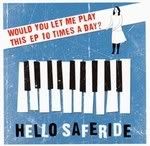 is perhaps the greatest song about a budding romance that I have heard in years, and is pretty much the story of my life. "Get Sick Soon" is also close to saccharine but gloriously simple in its expression of adoration. "Highschool Stalker" is, unfortunately, rife with lines that exemplify many of my pretend relationships with boys I've had crushes on. OH, MY GOD. HELLO SAFERIDE IS GREAT. Her friend, the equally adorable and amazing Maia Hirasawa, came in a close second--check out her video for "And then I found this boy" on MySpace.

ALBUM: Stars' Nightsongs is by no means a new album--in fact, it was their debut, but I didn't get my hot little hands on it until now due to some loser stealing the radio station's copy way back when. Thanks to my friend Step, who happens to be Stars' number one fan in the whole wide world, I rediscovered Nightsongs in full and let me tell you, it makes my life...just like that time I was in the Shibuya GAP store feeling sad because anything above a size ten doesn't exist in Japan, and Stellastarr* came on over the PA system. As Step says, Stars has a lyric that is fitting for every moment of every day, like my favorite kinda-sappy-but-awfully-touching stanza from "Tonight":
when the night descends upon us
take a shower, dry your hair by the furnace
i'll watch you from the corner
telephones and old typewriters
words of love along the wires
let's make it work tonight
telegraphs and birds that fly
through air so still you hear me sigh

I am in no way sappy or romantic or anything, but listening to Nightsongs makes me want a sweeping, epic romance...in France. In my pants.

TV SHOW: The BBC's Life On Mars, made by Kudos Productions (the folks who brought you my other two favorite BBC shows, Spooks and Hustle) in Manchester, UK. Not only is Manchester home of some of the greatest New Wave (hello, Joy Division) music and the club scene, but Life on Mars is like television MAGIC. DCI Sam Tyler gets in a car accident on his way to a crime scene and wakes up in a car...in 1973. He's still a police officer, demoted now to DI and mysteriously just transferred from Hyde to Manchester. John Simm as Sam Tyler (the lead character is, in fact, named after Rose Tyler of the previous two Doctor Who seasons) is all frustrated, confused, and morally upstanding despite his comatose status in the "real" world. John Simm is a great actor (you may remember him from 24 Hour Party People, ahhh Joy Division again!), but what really shines in this series is 1) the music, 2) the 1970s-era reproduction of mise-en-scene, and 3) the supporting cast. Much has been made of Philip Glenister's performance as the liquor-swilling, dirty-fighting, womanizing DCI Gene Hunt, and it's all true. The man is STUPENDOUS to watch, even as he beats the living daylights out of a perp. Lucky for the DCI Hunt fans, he's getting his own series come Fall 2007. My description does not suffice to explain how great this show is, I'm so, so sorry.

OUTFIT: I really don't wear dresses. They are not flattering to my long-legged-but-wide-waisted figure. Praise be, I have finally found the world's most perfect dress. You will clearly see that this just screams "KAREN" once you lay eyes on it. Thanks to Vendima Vintage in San Francisco's Noe Valley, I am the proud owner of this lovely 1940's (by far, my favorite era) style bepocketed polka-dot wrap dress, and it makes me feel like I can swing dance, fly, and/or do anything I damn well please, because I am one sassy broad. Sweet baby Jesus, it is a miracle dress! I will wear it with a vengeance, and my real vintage blue leather open-toe pumps.

RECIPE: This is an easy one, inspired by a Japanese recipe site that is just chock full of goodness. It's become my go-to site when I am confronted with my favorite Japanese ingredients like black sesame, nashi, mizuna, sweet potato, and this time, kabocha. Kabocha are small, sweet pumpkins with green rinds and bright orange flesh, you can find them at farmers' markets and Asian grocery stores. My grandmother told us stories growing up about how during World War II, when she and her family escaped a burning Kobe to live on her uncle's farm, all they had to eat was unripe kabocha and thin rice gruel because they had to pick the vegetables before people would steal them. That's the gist of it. Sixty years later, she's grown to love kabocha again as I have always loved it, so I like to buy a kabocha or two once in a while and try new recipes out. This is so simple, and can be used as a soup, a healthy alfredo-like pasta sauce, or pudding-y dessert depending on how you vary the ingredients.
I started out with 1/2 of a kabocha, seeded and chopped into 1-inch cubes, with most of the green rind cut off. After throwing the cubes into a pot with about 2 cups of milk to 1 cup of chicken broth (or water and sugar, if you are making a dessert), simmer on low for about twenty minutes or so until the kabocha is softened and the milk starts to get a little thick. Puree in a blender until smooth. Freeze in baggies if you wish. I just had some tonight thinned out with about a cup of chicken broth and cooked spinach tortellini in it. Yum! Spice with curry or saffron for a little more ethnic flair.

INDULGENCES: I just discovered that adding frozen semisweet chocolate chips to my favorite Honey Nut O's cereal is, well, MIND-BOGGLINGLY DELICIOUS. A little plebeian, a little decadent, it just makes a great late-night snack and has kept me from baking cookies with wild abandon as I am wont to do when it comes to finals time. Another new inferno of delicious pleasure is a spoonful of lemon curd with fresh (local-grown) strawberries and a bit of powdered sugar. Those Brits really know how to make a good curd.

Image from hitparade.ch.