As I've mentioned before, David Mamet's "The Unit" is one of my favorite shows. The episodes showing how to drive evasively were particularly inspiring for the hour-and-a-half car trips I make between home and school during the year. Let's just say I like to pretend one of the cars behind me is the pursuer, and I must escape their evil grasp! It's a self-training exercise, really. In terms of general safety provisions and evasive tactics, I'm sure many ladies have been in a situation they wanted to get out of--say, you're out alone at night, can't seem to get away from that creepy staring man at a bar, chased by a team of Mossad agents, that sort of thing. It's a terrible thing, but danger lurks in the world, and ladies, we have to be prepared for any eventuality.

A former Green Beret taught me that there are three ways to successfully escape and evade, particularly in a city environment: keep moving, change the way you move, and wear reversible clothing. The first, keep moving, is a no-brainer...if you stop, you let your pursuer catch up with you. Keep moving and be unpredictable. The second, changing the way you move, can mask any tell-tale or identifying mannerisms (the example used was the way you swing your arm if you've been injured, the pursuer can hone in on that and find you even in a crowd). Changing the way you move when wearing heels is a bit of a problem, but I have a solution: just make sure you're wearing shoes you can run in at all times, and don't trust those actresses in movies who can run in stilettos, that is a load of bull. Flats or kitten heels could save your life in a pinch.

The third and final factor, reversible clothing, is more important for creating a disguise and blending into a crowd when trying to keep under the radar. At this point in the lesson, my mind started to wander and I wondered if there was any kind of fashionable reversible clothing for ladies in need of multipurpose outfits. Remember all those times when Sydney Bristow had to create disguises for herself in Alias, like in the drugstore with the sorority girls and the blonde wig and new makeup? That was awesome, but sometimes a girl has to rely on what she's got at hand. (Click on the pictures below to see more photos of my suggestions.)

This purple/black reversible silk jersey mini-dress frm Bodyamr seems like a good choice for a night out: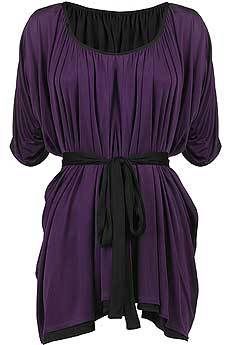 Change from chic purple to stealth black, come on, now! Still, it seems to take up a bit too much fabric to be supremely stealthy. Next!

Triple Five Soul's purple and white striped zip-up hoodie is definitely street-ready.
Unfortunately, you're going to have to be extraordinarily long-waisted and waifish to pull of that look with the horizontal stripes, awkwardly placed pockets, and juniors-department length (what is up with that nonsense, anyway?). Third time's a charm, ladies?

Nordstrom has a Softwear brand reversible jacket that looks warm and utilitarian:
Maybe it's a little bit middle-aged. Nice, but not quite as becoming for a young, spicy woman as it could be. I shall continue to look!

Finally, we have a winner! AngelRox's reversible halter wrap dress:
Hello, nurse! The high-necked halter top is alluring, feminine but not skanky (something I avoid like the plague, thanks), nice length in the skirt, and the whole thing reverses from heather grey to black and back. Couldn't you just think of a million things to do with that waist tie in the wee hours?

Just don't wear shoes you can't run in.

Images from net-a-porter.net, 80spurple.com, nordstrom.com and ravinstyle.com.