I am a woman on a mission, in search of the world's most perfect men's-tailoring inspired flats that are neither frumpy nor impossibly girlish. Just functional, fabulous, powerful shoes for your workaday businesslady. Inspired by the lovely selection of vintage and reproduction saddle shoes at Muffy's and Re-Mix Vintage Shoes, I've been poking around looking at my options...we're talking all wingtips, spectators, creepers--generally, leather lace-up flat shoes with men's detailing! I want to look like a Savile Row lady, what else could you want?

-Every time I peruse the shoe section at Nordstrom Rack, I stop and try on the variety of Jeffrey Campbell flats. Jeanne, Kati and I all own various versions of the Steppin heels, I nearly wore mine through after six months working in New York! I find the laces on those to be quite slippery and the heels have worn down to the point that it's a little unsafe to wear them on cobblestones for balance's sake, but I still love them to pieces. Mademoiselle Robot interviewed the very Jeffrey Campbell, making us love her and the brand even more.

-Speaking of Jeffrey Campbell shoes at Nordstrom Rack, I came across a single pair of his Driggs lattice-woven, lace-up flats in a size too small this past summer and I have been DYING TO OWN THEM in a size 9 ever since. Of course everyone else had the same idea and now they have disappeared completely, even from the internet. Come on!! How great would those look under some lovely slacks for work? Some wool socks to keep your feet warm and you're good to go in the winter, cropped pants and a gingham check blouse for spring/summer, it's the look of effortless cool that I aspire to achieve someday. Even my favorite shoe-store-blog, Williamsburg's Shoe Market covered these as part of their menswear detailing for ladies' shoes bonanza.

-Free People, bastion of faux-hippie high-waisted shorts and shredded babydoll dresses surprised me with this lovely pair of buttery leather lace-up wingtip shoes.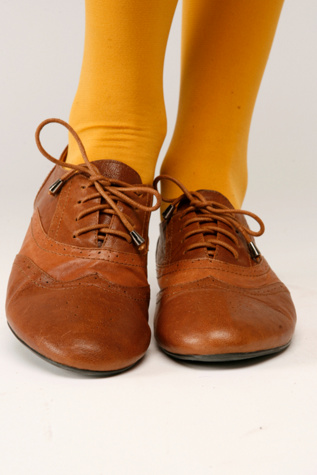 Give me a pair of these, some navy tights, a corduroy skirt and a warm sweater and I'm a happy girl. The leather laces look just as slippery as my Jeffrey Campbells, but a little double-knot never hurt anything.

-San Francisco's local fabulous shoe purveyor Shoe Biz has the F-Troupe contrast oxfords in black and grey canvas, I love the clean, simple lines. Very Fred Segal, I feel like I could find these in some amazing Japanese men's style magazine with funky scarves and knit caps. An alternative is the Gaga-tastic Kenndy [sic] loafer by Sam Edelman. Those would make any woman look HARD. AS. NAILS. and badass as hell.

-If you've ever been to your area outlet mall, you've seen the Bass stores.
At first glance, they appear to cater solely to the hunting-hiking-rough'n'tumble crowd, but if you are savvy they are a great source of hardy work shoes for women as well as men. ShoeBiz surprised me with the Bass Burlington oxfords, clunky but superbly functional!

-The other day, I tried on the Steve Madden Tuxedo in black and white with high hopes, doesn't it look like EXACTLY what I would want? Unfortunately, like every other Steve Madden shoe, these are crazy wide and both the sole and outer leather so thin you'd quickly wear through the entire shoe.

Well, my search continues for the perfect menswear-for-women's-shoes. With a perfectly pressed pantsuit for work, or opaque tights and a mid-thigh-length skirt, you'd be the smartest dressed woman in the room, no high heels necessary! What aspect of menswear do you wish you could bring over to the misses' department? We've taken over three-piece suits, fedoras, neckties (just a little), the boyfriend jean and tee-shirts since women started wearing slacks almost a century ago. Perhaps a pocket square is next for me...if only my suit jackets had front pockets!


Images from FreePeople.com and ShoeBizSF.com