One of my good friends is jaunting off to England for a couple of months, and while assisting her in wardrobe selections over the weekend, I started thinking about what clothes and beauty products are essentials to me, and would get packed in my own suitcase no matter what. I am a total low maintenance girl, and usually, these five picks are all the product I wear on a daily basis. Yeah. You heard me. This is it!*

In no particular order: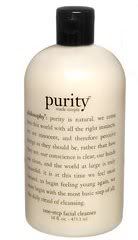 1. Purity Made Simple Cleanser
This is a recent addition to the routine. I've avoided cleansers for years, because every single one made me break out. I felt like, "why bother? I'll deal with the once a month breakouts and skip that step." But every so often I'd get the desire to try again. Everyone is so adamant that washing your face is deathly important and just water won't cut it. Which, by the way, it will- But this stuff is better. I use it every morning in a shower, and there was a huge difference in my skin this month. I feel like one of those clearisil ads- clean, clear and under control.

2. Lush Moisturizers (Celestials for face, Dream Cream for body)
It's no secret that I love Lush. I have mild eczema, which for me means moisturizing every day, unless I want scary rashes and red patches. No thanks! But until my friend Jennie introduced me to Lush three years ago, I had the hardest time finding products that a) moisturized enough, b) didn't have a ton of irritants, and c) didn't leave that icky greasy feeling, and d) I liked the smell of. Celestials smells like vanilla frosting, (yum!) and the only time it gets greasy is if I put way too much on and it's hot outside. It really is my favorite.

3. Neutrogena Ultra-Sheer Dry Touch Sunblock
I'm all Northern European Ancestry, all the way back. Which means I burn like a lobster anytime I get near the sun. Luckily, I'm not all Irish so I do eventually tan. But in the meantime, who wants to look like a lobster? Not me. This stuff is the best. I don't break out using it, the sunscreen smell is really faint, and it rated top of the Consumer Reports sunscreen test this year for protection. It's kind of expensive for Sunscreen, but Target often has it on sale, and seriously? I am wearing it everyday now because it doesn't make me breakout. Not getting skin cancer is worth it.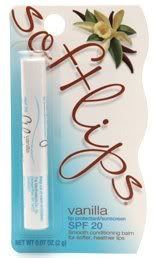 4. Softlips Chapstick
Softlips has been my go to chapstick since I was a Freshman in high school. It's comparable to Burtsbees or Natural Ice chapsticks- fun and tingly, but it comes in a slim tube, which is great for stuffing in girly tight pockets. They've also just boosted the SPF to 20 from 15, so everybody wins. And they make a French Vanilla flavor, which will forever endear them to me.

5. Boots no.7 Tinted Moisturizer, Boots no.7 Longer Lashes Mascara (tie.)
I don't use either of these every day, but I use them often enough that at least one of them needs to make it on the list. I like the tinted moisturizer to cut down on redness if I've gotten a little too much sun- or for a little added sunscreen protection if I don't want to use the Neutrogena that day. And as I've blogged about before, Boots no.7 Mascara is my absolute favorite mascara. It's not great for super-intense eye looks, but it's perfect for everyday, and won't clump or smear off even on your lower lashes.

YES. EVEN YOUR LOWER LASHES CAN WEAR IT.

And of course they're British, which means all their products suit my complexion really well. Good work, Boots.

Next in the series? My summer wardrobe staples that would go in my suitcase no matter what.

Where to buy: 1 can be found at sephora.com, 2 can be found at lush.com, 3-5 at your local target.

*Obviously I have just outed myself as the worst beauty blogger ever, and will be banished to posts about tv and music from now on.


Images from sephora.com and drugstore.com