I love the idea of a lipstain in theory -- lipcolor that lasts all day, even through eating and drinking! But they can be drying if you don't wear a balm over them, and still can come off on your office mug or napkin when you're eating at your cubicle all day. (What? That's the best way to test these things, right?)

You all know that Benetint is my stain of choice for my cheeks, but I originally wanted to wear it on my lips. But its lack of portability in the liquid form, and the fact that the Benetint balm comes in a pot and not a stick or a tube so I have to stick my fingers in it (or carry around a lip brush, which is a pain too) isn't ideal for me. So when I got the chance to ask Jean Ford if there were any plans to make my dream product, a Benetint balm in a lipstick or lip gloss form, she said no and I was sad.

But there is a bright side: Poppy King, the Lipstick Queen, made my dreams come true with Medieval.

I first spotted Medieval at Product Girl, where I immediately pinged Kati and said, "Look at this post! I want this!" The next day I was marching downstairs to Barney's cosmetics department. The same day I was picking it up, Blogdorf Goodman wrote about Medieval too.

It's totally the same sort of thing as Benetint -- the universal sheer rosy red, but in a lipstick. I heart it so much, you have no idea. And, you know, if BeneFit still decided to make one (with SPF!), I would snap it up too. But until then, I am more than thrilled with Medieval.


And then I found another one! I went to the local Japanese supermarket and of course started poking around the beauty and cosmetics aisle. There I found a lip balm that loudly proclaimed, "No Need for Lipstick" with the color name of "Nadeshiko Pink". Hmmm. Since "Nadeshiko" is a phrase that means "ideal/perfect woman", I had a feeling it was supposed to be another universally flattering color. And so I bought it.

Opening up the balm, it's white, like a regular Chapstick. But on applying, it turned hot pink. I even took before and after pictures for all to see. The before picture has no lip balm on at all, while the second is about a minute after applying two or three swipes of the balm.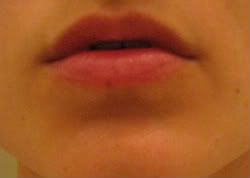 The balm is nice and moisturizing, and the hot pink color lasts for hours, even when the balm itself has worn off. I even woke up the next morning with pink lips.
I believe it's the same sort of concept as Smashbox's
O-GLOSS
, where it is initially clear but then turns pink against your skin, as
demonstrated by the Beauty Brains
. (Apparently there's a
JK Jemma Kid Lip Gloss
that does the same thing.) I don't have the packaging in front of me, but I'll definitely check to see if it's got Red 27 when I get home.
So those are two stainy balms I've been playing with lately! Sheer red and hot pink, yay!
What have your latest beauty discoveries been?
images from periodicstyle.blogspot.com