You know those spur-of-the-moment, amazing purchases you sometimes make that are pretty much astounding overall, so much so that you have to share your shopping glory with others immediately? Thank god for this blog, because I definitely found a pair of shoes yesterday that were a stroke of luck in an otherwise blah, errands-running-y Saturday. Thus, I present to you, the pair of Kenneth Cole Reaction "Fresh'n'Clean" (what?) pumps I bought:

Sure, they don't look like much, but bear in mind that these are going for over US$70 on Zappos, and the dippy Marshalls in my local big-box behemall had them for $20. SUCK IT, ONLINE SHOE STORES. To cut to the chase, I had been looking for a neutral non-black, not camel brown, and not-crazy colored kitten-heeled pump to match with a couple of vintage 1950s cotton dresses (one in purple-and-green plaid, the other in green stripes, I make a mockery of myself sometimes). Partly inspired by a film with proto-flappers in 1920s Ireland that was a midterms treat, I wanted a shoe with retro styling, and this shoe makes me feel like maybe I should take up swing-dancing. The heel height is perfect, and the fit is great, especially considering the price! The issues I take with shoes tend to be too-high unstable heels, lack of arch support, and sharp-edged leather uppers cutting into my feet. So far (and believe me, these have been taking a twenty-four hour spin around the apartment), these fit the bill quite nicely.

The other pair of work-ready shoes I've invested in are these Arturo Chiang flats. Jeanne very kindly accompanied me in skipping out on work for thirty minutes to run to the local Macy's and snap these puppies up. (She is also a good friend who flattered my giant nerd ego by saying that they looked like a pair of shoes from Battlestar Galactica.) The ultimate test of a good pair of shoes is not only their comfort but, as all girls know, how many compliments you get from other girls. One spin through the hair salon and everyone in there was agog at my adorable flats. It's hard being so practical, and so cute sometimes.

Once upon a time, I had a torrid affair with Puma sneakers, and even after we broke up (Puma was putting on airs, psh), I kept a few of their things around just to remind me of my comfort zone. Yes, it's true. I run around town more often than not in a terrifically battered old pair of Puma Californias:


Mine have black laces with grey stars, courtesy of time spent in Japan. My poor babies are almost split through the sole and yellowed or grey where once was white, but I cannot bear to throw them away.

Lastly but probably the most worn and most matched to my personality, my heavily abused purple Converse high-tops (purchased oh so long ago at Berk's in Cambridge, Massachusetts), permanently bedecked in black shoelaces with pink coffins.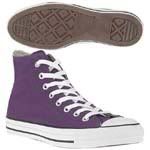 These Chucks have survived hailstorms, blizzards, months of working in a basement radio station, sand, and gum. Good job, ladies, way to pull through!

Now, if only I wasn't headed out to the gym in a few minutes, I could wear my new pumps out for the day...

Images from zappos.com and peltzshoes.com.