Hi folks. Just wanted to drop a line to say that these Loacker wafer-cookies are, um, TOTALLY SCRUMPTIOUS in the lemon flavor. Light, airy, melty-in-your-mouth-y, with a whole lot of refreshing lemony bite. Unlike a lot of lemon confections you'll find in stores today, these European creme "wafer cubes" don't have any dye or food coloring to enhance the yellow. Of course, they're still a LITTLE BIT bad for you, but with zero trans fat (...I don't really know what that means) and proclaimed no hydrogenated fats, Loackers are a pretty healthy substitute for regular chocolate-chip cookies, if you're a snacker. Besides, now is the season to start enjoying everything lemon-flavored! From what I've seen at my local farmers' markets, Meyer lemons seem to have recovered in full force from the terribly damaging frost we had in California about a month ago.

If you want to make your own lemon delights, try this recipe for Lemon-Honey Drop Cookies with lemony icing, adapted from Cooking Light: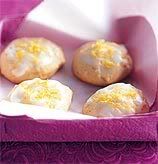 Ingredients:
1/2 cup granulated sugar
2 tbsp vegetable oil or applesauce
2 tsp grated lemon rind
1/3 cup honey
1 tsp fresh lemon juice, or juice of 1/2 lemon
1 tsp vanilla extract
1 egg
1 cup all-purpose flour
3/4 cup white whole wheat or whole wheat flour
1 tsp baking powder
1/2 tsp salt
1/4 cup fat-free yogurt, plain or lemon-flavored if you love it

Directions:
1. Preheat your oven to 350 degrees Fahrenheit. Beat the sugar, oil/applesauce, and lemon rind with a whisk until light and fluffy. Mix in honey (you can just eye it and squeeze straight from the bear-bottle, or spoon it out in globs if you have fancy honey), lemon juice, and egg until well incorporated.
2. Stir together dry ingredients (flour through salt) in a separate bowl. Alternate mixing the flour-mix with yogurt into the wet mixture. Does that make sense? Mix about a third of a cup of dry mixture into the wet mixture, then mix in a glop of the yogurt, then go again with the dry mixture, continue, but make sure you end up mixing in the rest of the flour mixture last.
3. The resulting batter will be silky and a light yellow-vanilla color. Drop equal spoonfuls onto two greased cookie sheets, lifting up the spoon as you drop to make a little swirly flourish on the top of the cookie. They will bake and stay like this, it's cutesy.
4. Bake for 10-12 minutes. While they're baking, make the icing by whisking together:
1 cup powdered sugar
juice of 1/2 lemon
2 tsp grated lemon rind (you can keep this separate to sprinkle on top to be extra fancy)

Using your whisk, swirl icing all over the still-warm cookies and allow to cool. The cookies will be cake-like and light, with shiny/glossy frosting.

I took a batch of these to a local meeting of my college's alumnae, and they were a big hit amongst the awkward cream-cheese roll-ups and bottles of wine!

Image from timeinc.com.