Wow, have I been a bad, bad blogger these past few weeks! The time really does disappear when you're working full-time, I haven't fully switched out of the perennial academic phase into professional, 9-to-5 mode yet! What can I say, it's a grind whatever you do, and I am absolutely impressed by all of you hard-working bloggers out there who can manage to look at a computer after a full day. Oh, to be a student again!

Jeanne and I are off to the Vintage Fashion Expo this weekend, so in the spirit of celebrating the fabulosity of yesteryear, I've recreated a few of my more notable office-outfits of the past two weeks. Nothing has been an outright WorkWear failure as yet--all credit for that is due to my office's rather lax dress code! There is a high standard set already, however, as my much-admired boss shows up bright-eyed and bushy-tailed every morning with her hair perfectly blown out, in different versions of a black skirt, colorful tweed jacket, and peep-toe stiletto heels. I feel like I'm schlumping around in flats and 2" heels, while the other half of the company traipses about in sneakers! Oh, the wretched hypocrisy.

The following Polyvore compositions are gross approximations, of course, since one could only be so lucky if she had her whole wardrobe mapped out online! I imagine it would be like a Flash version of Cher Horowitz's closet in Clueless. The first is very simple,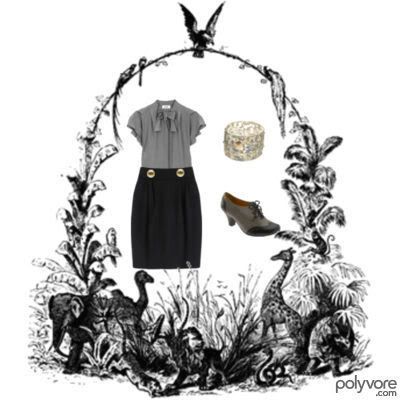 Black wool skirt with pockets and brass button details, from the J. Crew (or maybe Banana Republic? Is there a difference, really?) outlet store--great for winter. Grey blouse by Kersh of Canada, with lovely neck ruffle. Cheap-o, fake-y cuff watch picked up on sale somewhere for a ridiculous price, and the perennial favorites, Jeffrey Campbell two-tone Oxfords. LOVE THEM. Besides Jeffrey Campbell's Crayola box full of colorful two-tone shoes, does anyone have a line on similar styles for those of us with a need for tailored flair in her life?

Next is an unfortunately mediocre outfit from today, when I had to run around like a chicken with its head cut off, grabbing anything that looked clean-ish and fast in the morning: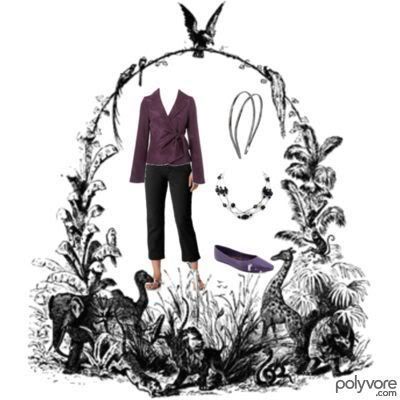 Purple wrap top over a white H&M tank top (that may have been taken out of the laundry pile, sniffed for cleanliness testing, and OKed for the day). Black plasticky necklace that I got for a pittance at a farmer's market, from far away it looks like it could be strands of tiny, black pearls, I enjoy the kitschy "paste" feel. Cropped, cuffed pants, and plain, light-purple flats. Mediocre, yes, but purple is the color of royalty, my friends, and I welcome it with open arms into my wardrobe! I rolled up my sleeves and popped on a headband to keep a short ponytail in place, I'd say that from far away and with a waist-cinching device, I could have been right out of Rebel Without A Cause.

Last, my crowning, vintage-tastic glory of the week, in iterations of reddish-orange: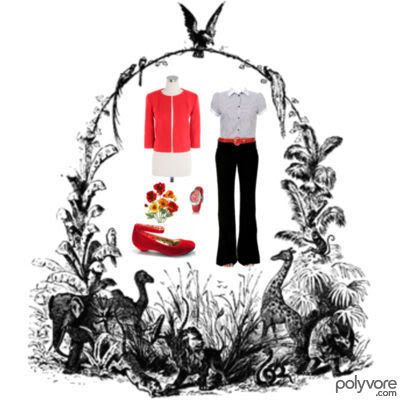 This Dayglo-orange jacket is INSANE. I got it for something like $15 at a Buffalo Exchange shop in Oakland, California, it's boxy and fitted at the same time, and has gargantuan plasticky pearlized buttons. Here's the thing about boxy-but-fitted jackets: boxy frames hide a multitude of sins, even out broad shoulders if you've got them, and give the illusion that your waist is teensy-weensy under there. I had to go visit the ladies' bathroom full-length mirror a few times during the day to admire my excellent vintage find. This was actually an experiment in mixing pattern and color for me--gasp, a color AND a pattern, in a single outfit! The blouse is grey and white striped with contrasting white collar and plackets, from H&M, shoes are Campers with funny red platform soles. The little flowers you see there represent a necklace of mine, a pearl teardrop pendant with orange California poppies (the state flower, thank you very much!) painted on it, hung from a maroon satin ribbon. It was one of the first items I ever purchased for myself that wasn't dime-store candy. Lovely lovely.

I'm sure Jeanne and I will come back from Saturday's Expo with a veritable haul, but we need some advice--how do you incorporate choice vintage pieces into a professional wardrobe without looking hokey? There is a 1950s black boucle boxy jacket with mink fur collar hanging in my closet, waiting for an invitation to come out and play...

Images from Polyvore.com.