This year's Japan Fashion Week had a lot of high points and a few looks I'd like to single out for my own personal style notes. As always, the accessories are grade A, primo deliciousness and I will take ANY AND ALL of it. There is a reason my bank account in Japan is empty... Through my review of the photos posted at JFW.jp, I noticed an interesting trend: MUSTARD YELLOW EVERYWHERE. Colonel Mustard is here to stay, ladies and gents! Is that particular shade of mustard yellow appropriate for the fall? Really now, it's a hard color to pull off most of the time, what's up with that, guys? Even the LA Times had a short pictorial feature on fashion's "yellow fever" (eww, what)but Japan Fashion Week really cornered the market on pure, deep, earthy mustard tones. Here are a few of my delightfully mustard-y favorites.

First, this look by Ono Motonari:

LOVE the gold rose scarf with the lightly ruffled blouse and hardcore belt. If the skirt were about a foot and a half longer, I would wear this to work with no qualms. Sans cuckoo bouffant hair, of course.

Second, by Kamishima Chinami: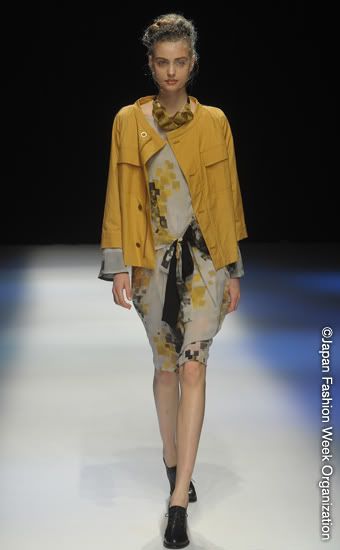 There certainly is a lot of gold-ochre tone going around this year, I love the contrast and play of the geometric shapes in very fall hues. Again, did you SEE the accessories and styling? SEND THE SHOES AND NECKLACE TO ME ASAP, PLEASE. I want to take mustard-yellow construction paper, make a ring chain out of it, and tie a ribbon to make it into a necklace. If you look closely, you can see that the model has a very fine, grey spidery net-veil over her face and hair, which is absolutely creepy and fab at the same time.

Third, by Torii Yuki:

I fully expect to see this strapless, gathered dress on the red carpet someday soon. Continuing the motif with the black lace tights is...interesting, but I feel like the combination of the chunky black boots makes it look like her legs are hairy. Weird, y/n?

Fourth, traditional kimono designs by Saito Jotaro: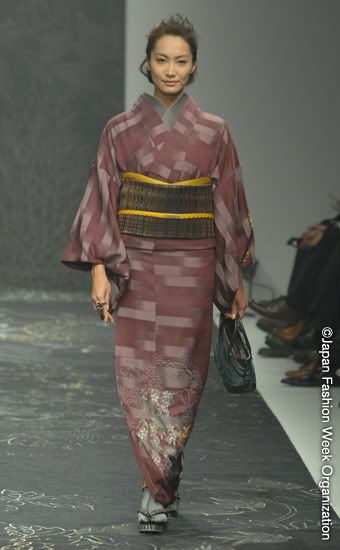 Several of his looks included a mustard-yellow highlight (the "soft" obi) underneath a contrasting obi to break up the patterns of the kimono fabric. Lovely! The play of the gradient shades of purple, grey, silver, black and yellow is perfectly balanced. It all makes me want to pull out the giant book I have somewhere on color references and meaning in classical Japanese poetry. Also, unrelated, but: HUBBA HUBBA! P.S. his models are fierce to the max.

More mustard for your macular enjoyment:
-support surface
-Han Ahn Soon
-Reem Alasadi
-Shirahama Ritsuko

Realistically, who can pull off mustard? Does it depend upon the exact shade, your complexion, the quality of the fabric, or the dye saturation? Is mustard limited to combination with neutrals only? My eye is always attracted to the jewel-tone colors on the clothes rack in my neverending quest to balance a closet full of black with something a bit more exciting.

And finally, an interesting note/question--why is it JAPAN Fashion Week, and not TOKYO Fashion Week like New York Fashion Week or Paris Fashion Week? I would sincerely hope that there will someday be a Tokyo-specific Fashion Week, a Kobe week, Osaka, Sapporo, Naha, the list goes on. All great, fashion-tastic cities worthy of a full week of high fashion appreciation by the whole world.