It's tough out there for a girl shopping on a budget. Add to that the heinously overpriced, lowest-quality clothing on sale in every supposedly affordably-priced chain store (I'm looking at you, Macy's) and it's getting to be near impossible to find something that isn't made of synthetic material and a complete waste of your hard-earned dollar. This is where stores like H&M, Forever 21, Alloy, and Delia's come in. Sure, they're cheap, but the quality is consistent and if you look hard, you can find some real gems to add to a diverse wardrobe. You can rely on them for the basics, much like Target--while Kohl's, I've found, is pretty crappy. What follows below are some of my picks from the online clearance racks at Delia's and Alloy, both brands that I remember from my own teenage years, though I was never actually a juniors-sized girl. Juniors tanks and tees in larger sizes are great for working out in due to their length and prevention of the pants-riding-down, shirt-riding-up problem. These are all pretty cute, cheap, and not overtly juniors-y, all tops for now since I always seem to be lacking the perfect blouse for a plain pair of pants or a patterned skirt!

Alloy white eyelet top with bow, $17.99: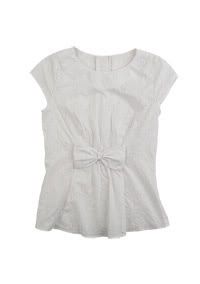 Cute, right? The tiny cap sleeves have great potential to make the slimmest arms look sort of massive, but the cut and detail with the eyelet and all would look nice for the office, under a navy tailored suit. The color looks a bit dingy compared to the bright white background, unfortunately, but that's no fault of this humble blog.

Delia's scoop-neck pink and brown "Victorian" jersey top, $22.50: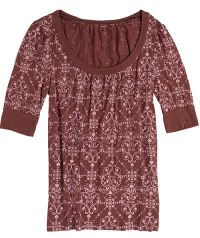 This top looks like chocolate and strawberry ice cream, and I can't resist the curlicue pattern--it looks like a network of chandeliers in profile. Raglan sleeves make a girl look big across the shoulders, but the scoop neck gives you a nice staging area for, say, dramatic gold necklace or cameo.

I've always been a little disappointed in Aeropostale's giant logo-laden sweatpants-in-class scheme, but I suppose for a school-approved juniors-oriented brand, their stuff is acceptable. The weather is getting colder, so it's time to start thinking about layering...I've always liked a hoodie under a collared jacket or coat. I have a 3 Dot Cotton navy blue heather hoodie that's survived many a layered day for the past six years, bless it, but perhaps I need something new: Aeropostale's polka-dot zip-front hoodie in (questionably) taupe, $19.99: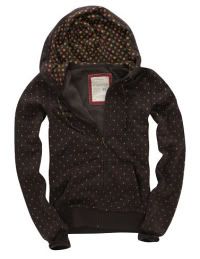 This "taupe" nonsense looks more like a normal old brown with pleasingly Fall-oriented dots. Also comes in an ice-cream white with black, blue, and yellow dots, which begs the question, do teenagers these days read Ray Bradbury ("The Wonderful Ice Cream Suit")?

I've seen a lot of these rough-edged elastic-gathered empire waist tops around lately, and even though I'm not a big fan of low-cut tops, Forever 21's navy blue embroidered satin top is kind of cute.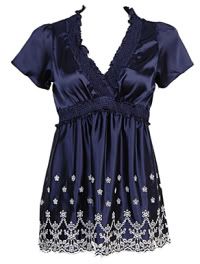 A border print is always rather fetching, am I right?

For a little more whimsy at work this fall, what do you think of a sweater vest? Classical nerdy-chic, and this one has hearts! Sweetheart sweatervest, $25 at Forever 21's "Heritage 1981" brand:
You couldn't pass muster with that vest in a particularly suited-up office place, but I'm of the party that encourages a little romance in the sea of black and white boxy boredom. Well, in theory, at least.

And now, I will count my laugh lines, feel old, and watch some classic Westerns. It's a blessing that juniors clothing is supplied in bigger sizes these days since the teen-oriented design market is a lot more adventurous than boring old-lady clothing. Sure, the sleeves might be longer, shoulders narrower, body length closer to tunic, but you can't beat the price and the cuteness factor is nearly overwhelming. Desperate times call for desperate measures, as they say, so when you're hard-up for wardrobe-reviving items at prices that are actually representative of what the garments cost the manufacturers, take a look in the juniors section. Beware, though--don't overbuy in juniors if you're over the age of seventeen or you'll look like you're trying to regain your lost teenage years, and never wear mini-skirts.

images from alloy.com, delias.com, aeropostale.com and forever21.com.