Oh Gossip Girl! You continue to delight me with your delightfulness. Every week is full of good/appropriate music, cute clothing, and DRAMA. Since these are three of the things I like the best, it's no surprise that this is my new favorite show. Leighton Meester is absolutely amazing as Blair, and she carries off the old-timey over the top fashions they put her in without blinking.

Exhibit one: Blair gussies up her school uniform in Victor, Victola.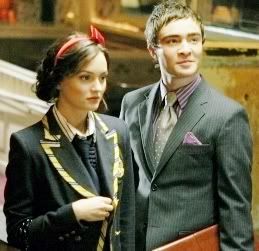 There is so much going on here! I adore the red headband/bow (and headbands and pearls are definitely Blair's signature pieces. I've posted before about my love for headbands, is it any surprise I love Blair so much?) and the striped blouse is cute. The blazer is over-the-top, but somehow it works on her. (Plus, Chuck's business formal suit? Smoking. They look so much like a power couple here I cannot stand it.)



Exhibit two: Veil to Sunglasses in Seventeen Candles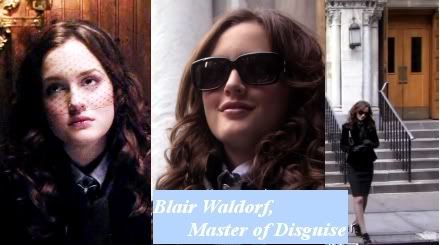 Again with the adorable headbands. Only Blair would (and could) wear a tiny veil on a headband to confessional. But her power suit blends effortlessly for a confessional veil to a sunglasses power walk to the jewelers. And the the shoes! Oh the shoes! Leighton Meester is hardly short at 5'4" (imdb.com) but these shoes put her at eye level with Chuck and the rest of the amazonian ladies of Gossip Girl. And Hello, they are adorable.

Exhibit three: Flashback Blair's Thanksgiving Dress in Blair Waldorf Must Pie!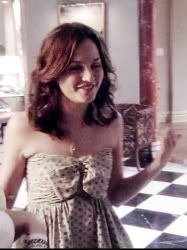 Blair had style, even at barely 16. When I'd just turned 16, I was running around in over-sized teeshirts and cutoffs. Granted, I was studying abroad on a tropical island during mid-summer, but still. Adorable dress here on Blair, and shows that Blair can still look fab in a simple outfit without a ton of accessories. I seriously covet the dress.





Exhibit four: Blair's tights


In order: White patterned tights from Victor, Victola, red from Hi, Society, black patterned tights from Blair Waldorf Must Pie!, blue from an upcoming episode, black patterned tights from Seventeen Candles.

Nothing can spice up an otherwise boring outfit faster than fun tights. I love the brightly colored ones for an instant punch, and the patterned ones are a subtle way to spice up an otherwise plain jane outfit.



Exhibit five: matching lips to clothing


White, black and pink dress and pink lips from Bad News Blair and red and white floral and red lips from Poison Ivy.

Normally I'm not a huge fan of matchy matchy, but Blair is matching her lips to one of the colors in her printed dresses and it is working so well. And the adorable red clutch and studded bracelet to young it up a tiny bit? Delightful.




Blair Waldorf: My kind of girl, accessorizing with headbands and coffee cups.

Stay tuned for part two next week, when we discuss everyone's favorite blonde glamazon, Serena.




screencaps from youknowyouloveme.org.