I'm on a mission- I need a new dress for a formal, but I don't want to spend a million dollars. So welcome to my quick and dirty budget dress shopping!

My dress requirements:
1) Knee-length or above. I'm not Blair Waldorf, I don't even want to attempt dancing in anything that's floor-length.
2) Something interesting. I know most of the ladies there are going to be in classic pieces that they can wear again and again, which is great. Classic pieces are classic. I'm just absolutely in love with the trends this season, and I want to wear the shit out of all the mini-dresses and headbands I can while they're still in.
3) No strapless. I think this is self-explanatory, but if it's not, I very nearly had a nip-slip last week while wearing a tiny tank and doing the polka. NO REPEATS. (and yes, logically I know the solution would be to stop doing the polka, but my polka partner might have some issues with that.)

Now, if I had a spare 500 bucks, I'd be buying the Catherine Malandrino Dress that Serena sported on Gossip Girl, but since I don't, It's back to the drawing board for me. Here are my picks for some fun dresses under 50 bucks!


Normally I'm not a huge fan of babydoll dresses-- they're very sweet and young, and since I look younger than I am already, there's not point in exacerbating the situation. But I do like the pairing of the babydoll dress with the metallic- it's a great contrast from what you normally see in a metallic dress.




I love the sleeves and the neckline on this one. The whole dress is cute in a very sweet way-- a tiny bit too sweet for me, and a bit more holiday dinner with the family than I want to get down and boogie.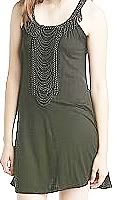 I love this little flapper inspired beaded dress from Urban Outfitters- great classic silhouette, and the beading keeps it interesting. I'm just trying to avoid so much black! I wear it a lot, so if I don't mix it up and buy colors when I'm shopping, I start to look like an emo kid from all the black. So on to the next shop!




Charlotte Russe can be really hit or miss for me. Their dresses tend to fit like a dream, but sometimes the fabric is looks the price, which is no good. I have to go into the store and try their stuff on instead of ordering off the website, which means I have to brave all the 13 year old girls that roam my local mall to try on dresses. Still, they're all affordable, and did I mention their dresses fit me like a dream?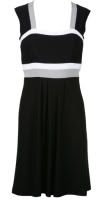 I love the color stripes as accents here, and I'm a fan of empire waists that also show off your waistline slightly. I couldn't find this one at the mall though, so I have no idea how it looks in person, so surprisingly enough, this little red number below ended up being the winner!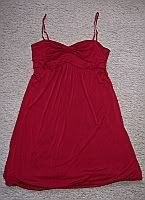 I'm not normally a red girl (it can make me resemble a tomato), but the sweet bubble hem and the fact that the red was dark enough to work with my complexion won me over. Plus, who doesn't want at least one sassy red dress in their closet? I hardly ever wear anything red, so for one evening at least it might be nice to have a little pop of color!



images from macys.com, urbanoutfitters.com, charlotterusse.com and periodicstyle.blogspot.com.