According to a general overview of my wardrobe, which is currently split between two houses due to my student lifestyle, I have far too many skirts. Specifically, A-line mid-length skirts, the kind that hit so pleasantly just past the knee. They are so flattering and easy to wear that I can't help but look for more, new, beautiful skirts to add to my growing collection. What, my mom collects vintage aprons and pillbox hats, my great-aunt collects gads and gads of antique jewelry, give a girl a break. It being fall, with me being single and too lazy to shave my legs more than once a month, I am more and more inclined to wear skirts with opaque tights and my new brown shoes. (These shoes deserve a separate post of their own, they are so, so comfortable, so cute, and were so on sale at Nordstrom! So great, in fact, that I am considering investing in a pair of Sofft brand knee-high boots.) Now, on to the lovely skirts I found for you!

Saltwater's pleated skirt with a cheeky little bird embroidery is too cute.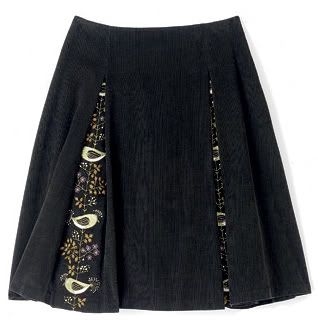 Twinkle by Wenlan's apple-green frilled but almost cyber-punky number looks a little elfin, but in a cute Deschanel way. Don't you think?


Boden's "swishy knitted skirt" looks like the navy-blue high-waisted, belted glory of a knitted skirt I bought at Marshall's last week for a song only in slightly more exciting colors: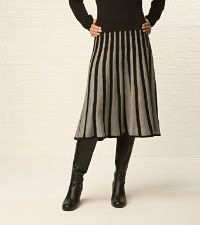 Check out this charmingly butter-yellow Japanese patterned cotton skirt at Stars and Infinite Darkness (LIKE MY HEART!):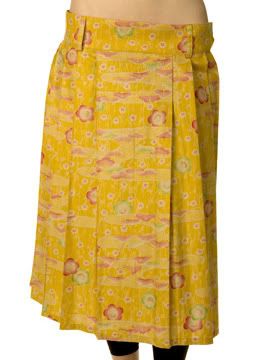 Nick & Mo clothing is so damn cute, but it just KILLS me that their sizing is for that absolute fashion fallacy known as "juniors." I love a great border print, every time I take a wee stroll through the fabric store I am like, YESSS LACY BORDER PRINT GLORY, oh you are sadly made of plastic and meant for tablecloths.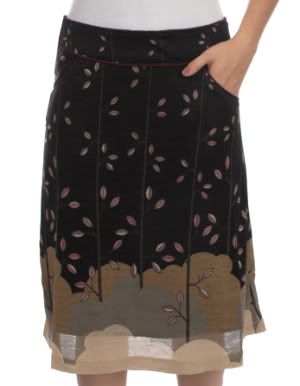 It almost makes a perfect match with the first skirt, with the birdies. You could have a THEMED SKIRT WEEK if you were so inclined. Oh, the mere thought makes me smile!

Images from saltwater.net, shopgreenapple.com, bodenusa.com, starsandinfinitedarkness.com and modcloth.com.