Oh, man. I have a pretty big shoe problem. Not only do I have a lot of them, but I never seem to have the right pair. Seriously, it's a problem. Unfortunately, even WORSE is that I'm trapped between two seasons and thus, two distinct shoe needs. I may be moving to Hawai'i for five-ish months come January, so I want some awesome humid-weather shoes that are semi-professional and NOT FLIP-FLOPS. On the other hand, it's just getting colder and colder here, enough to make a girl feel the pull towards those quintessential sexy knee-high black boots.

Do you see my conundrum here? Do I invest in a super-hot, ass-kicking and taking-no-names pair of knee-high Victorian-detailed black medium-heel boots to wear with my disgustingly vast collection of black A-line skirts, or stock up on all the cute sandals/flats that are just going on sale? All the anticipatory shopping, it drives me crazy.

Add to that Footlux's weeklong sale (now only two more days! hurry hurry!), and I am so much more inclined to browse shoes online than study for midterms right now. Take a peep at these awesomely patterned and adorned flats by Monica Garcia: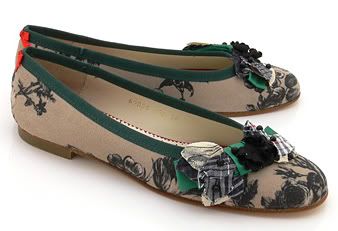 Not only do I love the toile, the teal ribbon, the little black sparkly beads that look like caviar (SWANKY), the little dash of plaid, and DID YOU SEE THE TINY BOW IN THE BACK?! Oh, my goodness. I could cover that shoe in chocolate frosting and eat it.

Since I seem to have a fatal attraction to volcanic islands and tourist traps, these Ashley Dearborn "molten" flats are calling out to me. The molten part looks more like tortoiseshell, but GLORIOUS.

Still, I find closed-toe flats to be a compromise for shoe conundrums like these. I've almost worn my black and white polka-dot with blue details Keds into the ground. These are strangely attractive, despite the fact that I own nothing in that lovely sort of Napoleon ice cream color palette:



Boden always has cute, simple clothing at cheaper-ish prices than J. Crew--just like J. Crew, I am skeptical of their shoes' quality, but these sandals are just too juicy to ignore:

On sale from $88, not bad, right? I just caved in, even though my wee toes will freeze if I wear them here. Conundrum solved? Possibly.

Images from footlux.com, piperlime.com and bodenusa.com.