It's the strangest thing. All this toil and trouble I've been through trying to finish my M.A. thesis, running around the world from Japan to California to New York and back again, the thing I most looked forward to has been reading for pleasure. Reading for pleasure is not something I take lightly. As someone lacking in the hands-on skills to knit, the athletic fortitude to take up a sport-related hobby, and the eye strength for video games, I am forced to use my free time on my first love: books. Having the luxury of time to read books, magazines, comics, anything that has NOTHING to do with biodefense, nuclear nonproliferation, and all the other things I've been spending the last two years on is an absolute joy.

I've been busily collecting a list of books to read "when I have time," which is now--I start my first Real Big Girl Job on Sept. 2nd, hooray--and I started with a bit of frivolousness. Three rather frivolous books, in fact! These three titles all deserve glowing reviews, and even managed to hold my usually chick-lit-averse attention, LOVE THEM.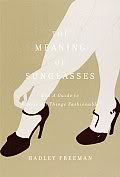 1. My mother brought me a copy of The Meaning of Sunglasses: And a Guide to Almost All Things Fashionable, by The Guardian's own Hadley Freeman, saying that she appreciated Ms. Freeman's position on women who wear glasses. You know the old saying, "Men don't make passes at girls who wear glasses"? Totally untrue. As our girl Hadley says, girls who wear glasses are showing their smarts on their sleeves, and specs make the best fashion accessories. Hadley despises animal prints, loves wedges, and wins your heart over with sassy, snarky chapters on everything your fashionista heart desires. It's enlightened, sharp as a tack, and even if you aren't "into" fashion, it will open your eyes to the reality of transitioning personal style from what people like La Wintour tell us and the cold, hard, real world. The Meaning of Sunglasses was so charming, funny, and spot-on that once I finished it, I passed it right on to my friend Courtney, who also devoured it. Isn't that the sign of a great book, that you just have to share it? Passed back and forth, like Lady Chatterley's Lover--which I need to add to my list!



2. How to Get Along with Boys, first published in the 1930s with advice for girls on, well, take a guess. It's GREAT and HILARIOUS. It's exactly the kind of advice my grandmother gives me--this is the grandmother who says, "You know, Karen, I never even SPOKE to a boy until I was twenty-one years old! Don't worry about being a late bloomer. Grandma thinks it's okay." Only in Japlish, which is difficult to transcribe. How to Get Along with Boys compares the rigid social mores surrounding dating in the 1930s favorably with the even-more rigid rules of romance in Victorian times. Aren't you glad you don't have to entertain your beau in your living room with a chaperone present, and you get to take lovely walks together instead? If you are an old-fashioned girl trying to manipulate an old-fashioned, bumbling but handsome and strong boy into your arms/a wedding, this is the book for you. It's basically step by step how to snag your man and make him ask for your hand. Amazing! Quaint! Quirky! I love it.



3. I Feel Bad About My Neck, by the illustrious and most-revered (not to mention hilarious) Nora Ephron. Ms. Ephron waxes philosophical about her live, loves, work, moves, children, aging, and above all, being a woman. You're let in to her beauty regime, her friends who go in for Botox injections, the ins and outs of New York City's most desirable apartment buildings, and the delights of aging not-so-gracefully. Nora and I are somewhat connected (lady-school!), I admire her and her place in history with the glorious When Harry Met Sally, so it's great to read her candid recounts of her personal trials and tribulations. Not out of an obsession with fame, mind you, but more of a, "Gee, I wish she could be my mentor and we could sit around laughing about face creams and sexualized lipstick ads, then write movie scripts all day" mentality.

Right now, I'm about halfway through the fascinating new biography of Alice Roosevelt Longworth (daughter of Teddy Roosevelt, infamous Gibson girl, political powerhouse), and it makes my heart yearn for THESE BOOTS. Is that materialistic of me, or is it just inspired?

Images from Powell's Books and the EverAfterStore.com.