So there I was, farting around the internet looking for a nice three-piece suit (vest, jacket, pants or skirt, you know...love the tailored look) just now, and realized that some of my favorite sites are having CRAZY sales and specials right now, just in time for Labor Day in the U.S. It's a three day weekend! You deserve a break, a little time in the sun (with SPF, please), a little gratuitous self-rewarding! In the spirit of sharing, here are my hot tips for sales and specials this week:

1. The retro-bohemian indie gods at OK47 are closing up shop and are selling off their remaining stock of super-cute, comfy silkscreened tops, skirts, and jackets at cutthroat prices. I was absolutely obsessed with an amazing pattern they came up with that was butterflies in flight turning into scissor blades. Don't steal my idea, ladies, because I'm ordering a couple of items off the site post-haste: the brown button pencil skirt, the blue diving swallows skirt, and the black herringbone military three-button jacket. Checking their return policy, it's too bad that they're closing down because everything is final sale...be sure to check your measurements against what they list for each garment! Bonus: no tax on orders from the U.S.! Found via the remnants of Paper Doll, a Canadian site for up and coming fashion design.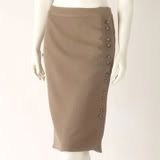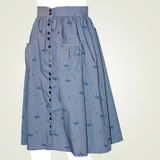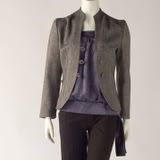 2. Did you ever notice that we here at Periodic Elements of Style are all over Steampunk and Gothic Lolita fashion? It's something about the quiet Victoriana elegance of brass buttons, ruffles, crowns, and platform shoes that I just can't put my finger on. If I didn't look like an elephant in a tutu (literally) in lolita-wear, I would do it every day. Le sigh. Well, luck be a lady, and the fine Japanese folks over at Baby, the Stars Shine Bright have created special packs of Lolita outfits specifically for overseas customers! Personally, I adore their Alice and the Pirates line, not to mention the wee top hats. All of the special packs are sold out for now, but you can place an advance order by clicking on "sign up."
My favorites are the Sweet Anniversary, "Fall in love with the pirates" set, and the sweet bow hairpins! Love love love. (Notice that the "First memorial date" set comes complete with bikini panties...hmm.) For a quick price conversion from Japanese yen to U.S. dollars, move the decimal point left two places (i.e., take off two zeros).

3. Jewelry design company We Dream in Colour has a handful of items on sale via Stars and Infinite Darkness, with all sorts of lovely, delicate Art Nouveau-meets-botanical-garden design. Pieces range from US$15 to $325. I love the Springer spaniel charm necklace, for fans of the breed, and this owl necklace is just too cute for words!

4. The sale section at Plasticland is a veritable cornucopia of rockabilly style, lacy panties and gingham wedges. Looks like a lot of back-to-school fun for me! I can't even imagine what a rampant consumer I would have been, had I had an allowance and online shopping in high school...what a horrifying notion. We love the EC Star Chinese lantern cardigan, the music note dress is wonderfully evocative of a little girl's 1950s play-dress, and the puff-sleeve navy blue trench coat makes me absolutely salivate.

5. Short but sweet, I was in my local Nordstrom's department store yesterday picking up a few things for ye olde work wardrobe and they had signs posted everywhere about a shoe sale starting this week. August 27th-onward, I believe? I may have to check it out, I'm in the market despite the recession for navy or deep purple pumps. My quest to inject more color into my life continues, from the feet up!

Images from ShopOK47.com and Baby, the Stars Shine Bright K.K.