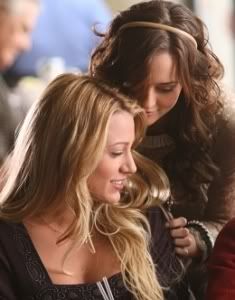 Gossip Girl here with some tips, tricks, and suggestions for grabbing a little UES -- that's Upper East Style.
For B.:
The
Pearl and Moonstone Cluster Necklace
from Dasha Boutique is reminiscent of Blair's birthday necklace from Chuck (the one she wore to her debutante ball!), while this
Regal Prussian asymmetrical necklace
from t8designs on etsy would look great with one of Blair's blazers and buns looks. The
Asymmetrical pearl necklace
from mcfarland designs on etsy are (vegan) pearls with a bit of an edge, just like Blair. We can definitely see Blair rocking
these large glass beads
from the MoMA Store with one of her high necked dresses and some colored tights, and this great
Golden Floral Drop
from divinerose on etsy would look great with Blair's Thanksgiving dress.
Remember, girls -- handmade means no one else can have it.
As far as headbands go, Erin Fetherston did a simple and chic
white headband
for Target (go target!), while those of you looking for something a little sassier should check out this
necktie hairband
or this
hairband with floral accent
from Nancy Gamon on etsy. And of course, this adorable
fascinator
from cottoncandycorsage on etsy is perfect for Blair.
For S.:
Black Flat Boots
from Chinese Laundry-- these are the black version of the grey pair Serena wears in Poison Ivy and I just bought myself a pair. Whoops! There are also these
Braveone
and
Buckup
from Nine West-- cute black low heeled knee boots, definitely up Serena's alley.
Flat so you don't trip on your way out of somebody's bedroom window.
For J., K., and I.:

Deux pointelle Beret
from Urban Outfitters looks like something Blair would wear(pretty and classic, while this
Leopord Mohair Beret
(also from Urban Outfitters) suits Jenny's younger trendy side. And these cute
cable knit berets
from Anthropologie come in three different colors for bestie matching potential! Also, if you can knit,
this beret pattern
from ysolda is absolutely adorable and comes in three different styles -- definitely easy to do a matching (but not too matchy) look with your bestie that way.
And as far as tams go, Hector Russel has a great selection. They've got a
tartan search
, where you can look up various tartans, and there's even a tartan called
Blair!
, which you can get in a
tam
over at the Scotland Yard.
My pick? Black Watch. Always classy, always watching.
Miscellaneous picks:
Sockdreams.com
has the best selection of socks, thigh highs and tights to recreate any of the girl's hosiery looks, and American Apparel has Blair's red tights from
Hi Society.
Dogeared has the golden
wishbone wishbone "Mischa" necklace
(and is just a great place to shop for lucky charms and everyday necklaces-- Jeanne and I both have tiny pendants from there that we wear constantly!), which is a great pick for Jenny, who loves all things golden and pendant-y. Although if Jenny were to actually wear Marissa's necklace, then my theory that Nate is the Man-rissa of the show might have to be revised. (Chuck clearly is the new Julie Cooper; we're just waiting for him to start running the male prostitution ring out of the burlesque club.)
Check out
FredFlare.com
for some of Jenny, Kati and Is's accessories! Kati and Is wore
these
earrings in Seventeen Candles, and
these
sunglasses in
Poison Ivy
. Jenny's been rocking their bags in three separate episodes too! (they've sold out though, sad!) FredFlare also has free shipping this week only, enter the code: staffpicks.07 at checkout for 7.95 off shipping on your order!
And if you're looking for something a little more fun, something a little more MY style, check out this necklace. Ring ring ring, it's Gossip Girl on the line.
And for more on the fashion of Gossip Girl,
Stiletto Jungle's
and
Fab Sugar's
Gossip Girl tags have a lot of great posts detailing the actual items worn on the show, as well as recreating some of the looks for us. Love it! For more general style posts, check out
Ykfashionblog
, the fashion blog for youknowyouloveme.org! They've discussed the masquerade ball outfits and the ivy week look so far on their blog.
She Finds
details some of the fashions from the pilot, and
Gala Darling
shares our love of Chuck's power suit and anything Blair in her Gossip Girl Style post.
That's all for today! You know you love us, XOXO!
screencap from youknowyouloveme.org.