Hello, I am a glamazon from the Upper East Side. Love me and my perfect hair!

Why hello Serena! We do love you and your perfect hair, not to mention your adorable 70s style, and your ability to transform yourself from an insufferable book character into a fantastic screen goddess. And her 70s-free-spirit-cum-rockstar inspired fashion sense displays an awesome contrast to Blair's old school aesthetic. Well played, my UES lady, well played.

Exhibit one: Mini-dresses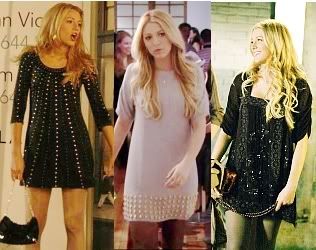 Rocking the mini-dresses in Daredevil, Seventeen Candles, and Blair Waldorf Must Pie.

Serena proves that the mini-dress can be used for any occasion: On a date, to a friend's birthday party, and for holiday dinners. She looks fantastic, and mini-dresses are pretty much effortless: throw one on and add in some tights and cute shoes and you're good to go.

That and the Black Mini-Dress looks almost exactly like one Heidi Klum wore on Project Runway this season (another leggy blonde who has also been rocking the mini-dress look lately-love it!) I hope this dress isn't something that only looks good on tall gorgy blondes, because lord, do I want a similar dress, and I'm not sure that growing four inches overnight is an option.


Exhibit two: Serena's Boots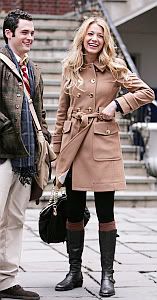 Here's an awesome look from an upcoming episode:
How much do I love her coat and her boots (and her boyfriend?) A lot. The boots look perfect for winter- (i.e. water resistant and tall to keep everything warm and dry!) and the coat! Oh the coat! Giant pockets and double breasted and oh!

And her boot collection in general? Let's just say that out of all the characters on the show, I want her shoe collection the most.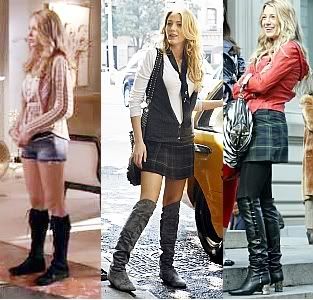 (Black moccasins from The Wild Brunch, over the knee grey slouch in Poison Ivy, black knee slouch from an upcoming episode. )

Exhibit three: Possibly the most adorable dress in the entire world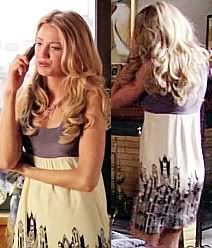 Dress from Bad News Blair.

Adorable cut, good colors, and enough interest with the print to keep it from being boring. Love it. It's definitely on the sweet side of what Serena wears, but I can't help it. I still love it on her.





Exhibit four: Headscarves!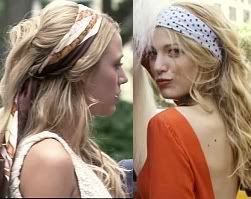 Head scarves from Poison Ivy and Bad News Blair.

Now you might be saying, "dude, didn't we just talk about hair stuff with Blair? What's the difference?" I love head scarves just as much as I love headbands, but they do say completely different things. Headscarves are definitely more bohemian than a headband, and thus it makes perfect sense to see Serena rocking them. She's Blair's counterpart and foil in so many ways, and I love the subtle ways it gets pointed out in everything the girls do, say, and wear.

Exhibit five: Rocking the Uniform.

And finally, more than anything, I love knee socks, cute cardigans, schoolgirl skirts and loose ties, so combining all three into one adorable school uniform? I love you Serena. (Victor, Victrola)




Stay tuned for Part Three: Jenny, Kati, and Isabel, and then Part Four: Our shopping guide!

screencaps from youknowyouloveme.org.