I know Jeanne's posted about Lush's line of makeup (sadly, only sold in England, and why is it the makeup I love the most is from England or Australia?) and their solid perfumes before, and I've expressed my love for Lush's moisturizers, but today I want to talk about Lush's staple products: their bubble bars and bath bombs. I've been a huge fan of Lush ever since my friend Jennie gave me my first sample of their great moisturizers, but my love for them was really cemented when I discovered that their bath products didn't dry me or make me break out. Imagine my joy at being able to take a bubble bath, after years of breaking out into a itchy rash at even the sight of a bottle of Mr. Bubble, or drying up with most bottled bubble baths I'd tried.

Make sure your bathtub is relatively clean before popping one in though! Some of the colored ones will leave a colored film on a dirty bath tub, so I hear.

Bath Bombs:
Run a bath and then chuck one of these in and watch it explode!


Butterball: this little guy isn't much to look at, but man oh man does he moisturize. The scent is mild and slightly vanilla-y, and the little flecks of cocoa butter do wonders for the skin. I always make sure I've got one on hand to do dry skin damage control. This is my all time favorite bath product, and the first thing I'd recommend to anyone looking to try stuff out from Lush.

Champagne Supernova: This bath bomb is HUGE, you guys. One lasted me for three baths, is all I'm saying. Loved the citrus and cognac smell and the pink-tinted water. I was less of a fan of the rice paper confetti bits, but then again, I don't see the point of stuff that doesn't have a function and is just there to look pretty. Give me colored flecks of cocoa butter any day.But it was especially awesome combined with a bit of a Karma bar- EXTRA CITRUS FUN. I was delighted with the combo.

Bubble Bars:

Break off a hunk of your bubble bar and crumble it under running water. The more water pressure you have on the bar, the better the bubbles!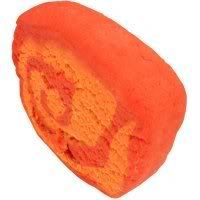 Karma: This is my staple bubble bar. It's big, has great bubbles, and ORANGE. My only warning is to make sure you get some of the orange in every bath. One time I broke off a hunk to throw in a bath that only had the yellow swirl, and I smelt delightfully of Patchouli the entire night. Not so great when you're hanging out with your ex and his new girlfriend. At least I live in Hippiesville, so it's not like I smelt any different than anyone else. Make sure you've got some of that orange in there, and you're golden.

Creamy Candy Bath: For anyone with a sweet tooth. It's super moisturizing, but the bubbles aren't quite as big. Mixing with Hot Milk gives great results!

Hot Milk: Great Bubbles, but the smell is completely mild. Mixing part of a Hot Milk bar with a Creamy Candy bubble bar gives a great smelling, extra-bubbly and moisturizing bath though.

Next things on my list to try: The Ma Bar and Twinkle Bath Bomb.

Images from lush.com.