Happy Friday everyone! It's time for part three of our Gossip Girl style guide. Today I want to talk about the rest the ladies of Gossip Girl: Jenny, Kati, and Isabel.

Jenny, being the youngest gossip girl has the most accessible style. She generally keeps it simple, although occasionally she'll go a little over the top, like any other 15 year old girl. She's rocking all the latest trends, and hasn't defined her own personal style as much as Serena or Blair.

Kati and Isabel, on the other hand, definitely have their own personal style: Whatever their friends are wearing. They're often seen in adorable complimentary outfits, ones that often pull from what Blair or Serena is wearing.


Exhibit One: Keeping it on Trend


Top Left: Wild Brunch, Bottom Left: Blair Waldorf Must Pie, Right: Daredevil.
With these three outfits, Jenny's displaying an admirable grasp on this season's trends. With the outfit from The Wild Brunch, she's rocking the mini-dress and the random belt trend. Not sure how I feel about the belt OVER the cardigan, but the dress is definitely cute enough to make up for it.

The Puffed Sleeve dress from Blair Waldorf Must Pie is just adorable in general, but it's the puffed sleeves that give it the edge. I must say I'm a fan of puffed sleeves; most likely it's from reading Anne of Green Gables too many times as a kid.

And Jenny rocks the indiekid hipster look in this outfit from Daredevil. It is only fitting since the Humphrey's are from Brooklyn, after all. Skinny jeans, basic black flats, and the layering of the cute tops with a simple necklace for accessorizing. Jenny's got this season's trends mastered.


Exhibit Two: Dress I Covet!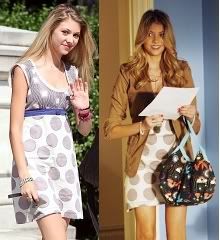 Polka Dot Dress from the Handmaiden's Tale

Adorable! The jacket is very cute too, and the bag keeps it from getting too old (because seriously, I would wear that jacket/dress combo out any day of the week.) If I was seven years younger, I'd be rocking that bag too.

(Also, how much does Taylor Momsen resemble the actress that plays her mom in the second shot? Well done, casting department!)


Exhibit Three: Tams and Berets



At Left: Jenny in an adorable little crocheted beret from upcoming episode.
Top Right: Kati and Isabel rock matching Tams in Victor, Victrola.
Bottom Left: Jenny is in a Tam from Hi, Society.

If I had to pick one thing I love about being a knitter, it's the current ability of the knitting community at large to pick out upcoming trends a year before the malls get ahold of it. Last year I knit myself a little knitted beret, and loads of patterns had the adorable puffed sleeves, and voila! This year, it's all about the berets and puffed sleeves. Love it!

And it's not just berets that are in this winter! Tams, with their jaunty poms on top are in too! Personally, I feel a little silly wearing a tam, so I'm sticking with berets; but tams are great for anyone who doesn't look seven years younger than their actual age. (Seriously. I get asked what high school I go to all the time by actual high schoolers and carded at R-rated movies. It's a little bit pathetic, and I think I'd look about ten years younger than I actually am if I wore a tam.) But tams are definitely fun for those of you who look around your age. They're youthful and the poms make me happy every time I see one.

Exhibit Four: Matching Your Best Friend.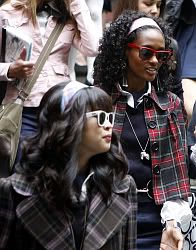 How many of us have ever gone out and ended up wearing pretty much identical outfits as our friends? I know my roommate and I used to do that all the time, because after all, great minds think alike. But Kati and Isabel take it to a whole new level.

Oh, Kati, I may have to love you two because we share a name (if not a pronunciation,) but I also kind of love you for your commitment to the best friend theme. You guys dress like twins, and it is always hilarious. Do you call each other every day to coordinate outfits? It is new levels of codependency and it is so over the top that I love it.

Also how much do I want Serena and Blair to do this again, but with actual clothing they own, rather than with stolen clothing that doesn't look right with their coloring? A lot.

Stay tuned for Part Four: our shopping guide. We're combing the net for ways to get the look for less, pointing out some other Gossip Girl Style Guides, and picking out some pieces we think the girls would wear.

screencaps from youknowyouloveme.org