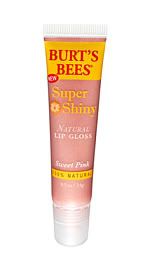 So I was out shopping yesterday, trying to get everything I needed for tonight's masquerade ball (possibly more on that later,) enjoying my first day off in eight days and signing up for a MAC Studio Talk Class (definitely more on that later,) when I stumbled across these little tubes in my favorite Target aisle. (You know, the one with Boots and Burt's Bees and now Philosophy stuff!)

"What's that?" I thought. "Burt's Bees... LIP GLOSS?"

And thus one in Sweet Pink went into my basket.

I'm generally kind of hit or miss with Burt's Bees Products-- absolutely love their cuticle cream (as evidenced by last week's post,) like their chapstick and lip shimmers, do not love their hand creams. But I like the way their lip products moisturize and generally act as a balm as well as being a lip product, and Super Shiny Lip Gloss does not disappoint.

The name is a bit of a misnomer, it's not actually that glossy, which is fine by me considering the Lip Shimmer is mostly shimmer-- a bit much for daytime wear. There's just a hint of gloss, a hint of color, and a lot of moisture in the Super Shiny Lip Gloss. It's a great daytime gloss, and I love the grapefruit scent of the Sweet Pink.

The only thing missing is SPF, but then it wouldn't be all-natural, I guess!

Image from burtsbees.com.