In the spirit of "April showers bring May flowers" on this thunderstorm-y day in Manhattan, I am going to share with everyone a little music for a rainy day.

You've heard of Broken Social Scene, right? And some of the great solo albums its approximately twelve thousand members have produced to great acclaim? Right behind Leslie Feist, Jason Collett is one of BSS's most prolific. In the past few years, he's worked with Broken Social Scene, put out three albums of his own, and taken time off to raise his kids. Can I say, I think that's adorable? His recent Here's to Being Here is a whiskey-splashed, pop-and-blues-tinged, two-days-of-beard-stubble sort of album to follow up the decidedly Dylan-esque Idols of Exile from 2005.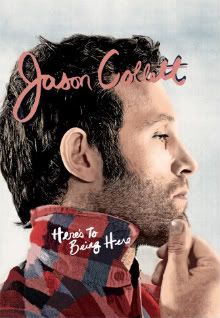 Like many of today's great unlauded indie albums, Here's to Being Here is music for a breaking heart on a gray day (the other band who can help you out in those times is The Submarines). It's a little bit bitter and a little bit melancholic, but there is a glimmer of excitement and hope in Collett's eye-closed and half-dancing guitar licks. In "Not Over You," surely the chorus is repetitive, but in a charmingly tantric way. It's soothing and cathartic to sing along to, like a great power ballad from the 80s that you realize is entirely underappreciated after rocking out to it in your car.

"This is very much an old school guitar record, in the sense of it being very tasteful... that's one of the greater accomplishments of this record" says Collett, "recording in bigger spaces and live off the floor allowed us to capture some of the band energy. This allowed for spontaneous creations, which led to many wonderful little accidents."


If you like Broken Social Scene's more ambiant, diamond in the rough tracks, check out member Kevin Drew's recent solo album, supposedly the first in a series of Broken Social Scene Presents...!


Image and quote from ArtsCrafts.ca. Arts and Crafts, I love you.