Periodically we discuss our favorite things of the moment; here's what I'm digging on this winter.

Glogg!: This is not a new obsession by any means- I have relatives in Norway and my family is all in agreement on the awesomeness of most Scandinavian food. But now that an IKEA has opened up in Portland, I can get my hands on delicious glogg far more often, and I love it. Glogg for all! (just remember to heat it up.)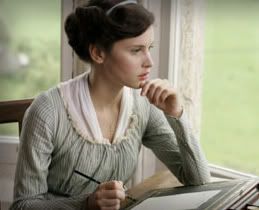 The Complete Jane Austen on Masterpiece Theater: I am so excited about this. Why? Not only is there a new version of Mansfield Park with the fabulous Billie Piper, but they're doing a version of Northanger Abbey, which for reasons unbeknownst to me, is and remains my favorite Austin novel, and yet there's only been one other film version done (and by all accounts it is silly.) Northanger Abbey! I just hope they actually shot the Bath bits in Bath, because that is one of my favorite spots in England. This started last week, with a version of Persuasion. I haven't watched it yet, because that's the one Austen novel I have yet to crack the spine on. It's first on my list once I get some spare time though!

Trader Joe's: Now that I'm legal drinking age, the wine wall at Trader Joe's has started holding a certain fascination for me. Not only do they have Three Buck Chuck for me to put in my Glogg, they carry a lot of local wines that we've started sampling with dinner. Not to mention they have my new favorite cheese ever, Irish Dubliner Cheddar. So good, especially with their multi-grain crackers. And they make crumpets (I've been digging on the crumpets with lime marmalade that my friend Dorothy brought back from London for me. So good!) If I gain five pounds this winter, I know where I'm pointing the finger at.

Berets: I'm no stranger to beanie love, living in the Pacific Northwest, but when you have a nice coat, beanies look ridiculous. If you need some suggestions, I've picked a couple out in this post, and I have spotted plain and simple ones (with matching scarves!) at Target.

Merengue and Ballroom Dance: My friends have been dragging me out to Ballroom Dancing every week, which while fun, is kind of difficult for the coordination ally challenged like me. Which is why I love Merengue! Just move your feet around and then make up the rest of the steps- and the dudes get to turn too! It doesn't matter if you screw up, the point is to have fun.

What are you loving this winter?

Image from pbs.org.