It's that time again-- time to go internet dress shopping with me! I know it's a little early to start looking for summer dresses, but I have a themed dance next week, so I need a sundress asap! As always, everything I look at is under 50 bucks.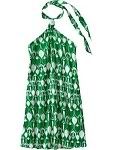 Green and White Halter from Old Navy.
I like the twist on the classic halter neckline on this dress. The print is fun without being overwhelming, and it looks like a great dress to throw on with some flip-flops on a lazy summer day.




Blue Romper Dress from Urban Outfitters.
I may have picked this one based solely on the name itself. Jeanne's been super excited about her new hoop for weeks on end, and here is a cute little number named "Hoola Hoop," with cute buttons and a removable ladybug pin. It has Jeanne written all over it.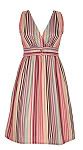 Striped Sundress from Delia's.
I love the classic shape of this, and the little details that make it extra cute-- the great stripe pattern and the three buttons on the waistband.




Floral Sundress from Charlotte Russe.
I love everything about this stupid dress. The only reason I didn't buy it when I went dress shopping is because it is not a dress I could dance in (too short, not enough flare in the skirt.) I love the colors (they're my best colors,) I love the print, I love the neckline and the straps. I am probably going back next week to buy this dress.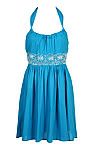 Blue Halter from Charlotte Russe.
And the winner? This gorgeous blue number. I love halters on me (I've got a swimmer's build-- good shoulders and long legs) and the skirt is flowy with room to move, and will look great while dancing. The color is amazing in person too-- really vibrant blue that matches my beloved Sephora #55 nail polish.

Now I just need to find a slip to wear underneath! Anyone have any suggestions?


Images from charlotterusse.com, delias.com, oldnavy.com and urbanoutfitters.com.