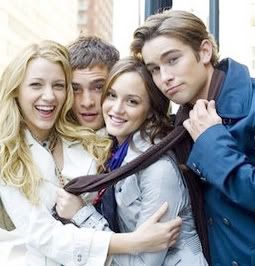 So this is a slight departure from the normal Lab Accident: A bit of a double theme and a bit of no theme at all. It's Jeanne's birthday mix, and it's also a Gossip Girl centric mix, because if you haven't noticed yet, J and I are total dorks about the show.

Take a Taxi to the Darker Side of Town: 16 songs, 60 minutes.

1. The Wombats- "Let's Dance to Joy Division." (Serena and Blair)
2. The Kills- "Sour Cherry." (Chuck)
3. Yeah Yeah Yeahs- "Way Out" (Nate)
4. Washington Social Scene- "Diamond Hipster Boy" (Dan)
5. Hot Chip- "And I Was a Boy From School" (Nate to Blair and Chuck)
6. Interpol- "Slow Hands" (Blair/Chuck)
7. Starlight Mints- "Submarine #3" (Blair/Chuck)
8. Violent Femmes- "Eep Opp Ork Ah Ah (Means I Love You)" (Dan/Serena)
9. Mike Dougherty- "I Hear the Bells" (Nate/Serena)
10. Metro Station- "Kelsey" (Blair/Nate)
11. Dresden Dolls- "Coin Operated Boy" (Blair to Nate and Chuck)
12. The Sounds- "Queen of Apology" (Serena)
13. Mirah- "This Dance" (Blair)
14. The Unicorns- "Les Os" (Dan/Serena)
15. Rilo Kiley- "Wires and Waves" (Blair/Chuck/Nate/Serena)
16. Explosions in the Sky- "First Breath After Coma" (Blair, Serena, Manhattan)

Image from youknowyouloveme.org.