I'm going to tell you a secret: I have always harbored a secret dream that I would be wandering around a gorgeous, Rococo museum drinking in the European classics and end up meeting a handsome young man, whom I would then talk to about religious symbolism in the works of the early Renaissance, and we would live happily ever after. It's pretty sweet.

Obviously, this hasn't happened (yet), but I still love going to museums by myself. I've never been to Europe, never seen the crazy glass pyramid or the Mona Lisa at the Louvre, nor seen Michaelangelo's David's naked bum up close and personal, but I have to say, the cities I've lived in in the U.S. have some Grade A spectacular museums.

Case in point, the San Francisco Museum of Modern Art (or SFMoMA)--great, great collection of Jasper Johns, Alexander Calder mobiles, Rothko, Manet, and others. They always have crazy robots made out of bicycles and things on the main staircase. The Cantor Museum at Stanford University has a beautiful rotunda and garden filled with Rodin bronzes, and Isamu Noguchi sculpture. In Japan, the I.M. Pei-designed Miho Museum is, as the architect himself says, a Shangri-La in the middle of Japan's lushest forests. (Sure, it's owned by a new-age-y cult-ish religion, but they have an amazing floor mosaic from the ruins of Pompeii.)

Here in New York, now, of course I've got the MoMA, the Metropolitan Museum of Art, the Museum of Natural History, and Chelsea galleries galore to enjoy, but here's the thing--I live just a couple of blocks away from the small, but luxurious Frick Museum, a converted old mansion on the Upper East Side, cuddled right up next to Central Park. The Frick houses some of the greatest European art of the past seven hundred (!) years, including my favorite, the Boucher room. Commissioned by Marie Antoinette herself, the Boucher murals are all CHUBBY WEE BABIES doing TOTALLY SWEET ADULT THINGS. Like astronomy. I love it. Maybe I am secretly Angela from The Office.

Right now, the Frick has a special exhibition of Parmigianino's Antea, one of the second-most enchanting and mysterious portraits of the Renaissance after the Mona Lisa.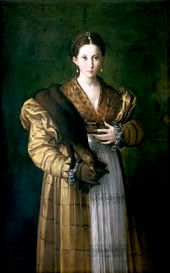 Their analysis of the painting fascinates me. I love the symbolism of each piece of clothing and accessory, the awkward body-head proportions, and the sheer sumptuousness of the whole shebang. It's a rather uncultured way of saying so, but don't you think Antea represents a certain kind of lavish lifestyle, perhaps a rags-to-riches story of a woman pulling herself up through the social order using her wits and feminine wiles?

Taking Antea as inspiration, I took a little stroll through Polyvore to see if I could create an outfit that evoked the same kind of mystery and enchanting allure. How'd I do?



Gold ("Sarah Bernhard"!) dress by Vivienne Westwood, birds necklace at Shana Logic, vintage feathered cloche hat, and Chie Mihara shoes. I know, you're looking at this with a quizzical expression, saying, "Karen, what the hell?" Here's the thing. I like to take my fashion-spiration from a plethora of sources, and I find the feathers and quirky bird-themed ensemble is similarly evocative as Antea's little bared-teeth fur. It's luxe, mysterious, and captivating without the use of a whole animal's body as accessory.

Here's a challenge for you, our lovely readers! Choose a favorite work of art, a painting, sculpture, film, song, photograph, anything and come up with a Polyvore outfit--inspired-by! I recommend looking up the websites of your local museums, or sites like Olga's Gallery for European and Renaissance art. Post your pet piece on your blog and leave us a comment, I can't wait to see it all! We're headed back to the Frick tomorrow for a little college girlfriends' reunion, I'm sure to find something new and inspiring all over.


Images from Polyvore.com and The Frick Museum.