We are in full-blown spring! The local farmers' markets have started back up again, everything is green (and, um, pollen-y), and the evenings have gotten nice and long. And so, after one morning at the farmers' market, I found myself coming home with an arm full of tomato plants. (And then, after a trip to Home Depot, a tangerine tree too.)

Seriously, there is nothing better than homegrown tomatoes in the summer. So I'm giving it a go and trying to see what I can get. While I haven't taken any photos recently (guess that's what I'm doing tonight!), you can see my tomatoes' progress already. (Here's Day 0, the day o' planting, to the last set of photos on Day 20.) Of course, now that I've learned all of these tips on planting tomatoes, I feel kind of dumb for just kind of throwing them in the sunny dirt and letting 'em go. But that's what tomatoes are for, right? That and eating.

And so gardening is at the top of my mind lately, what with the awesome reoccuring column at Modish, too. It's super-inspiring and really great. (Go! Read it! I'll be here.)

Plus, since Mother's Day is coming up this weekend and I'm from a long line of gardening women, it's a great way for me to go outside and spend time with my mom, too. I used to hate all of the nursery trips we used to take when I was little, but now I wind up coming home with plants and grand ideas.

And because I'm loving all of the tiny floral prints that're floating around this spring (have you seen all of the adorable dresses liebemarlene vintage has had in her store the past couple of weeks?), I'm using florals and being out in the garden as a jumping point for a Polyvore set!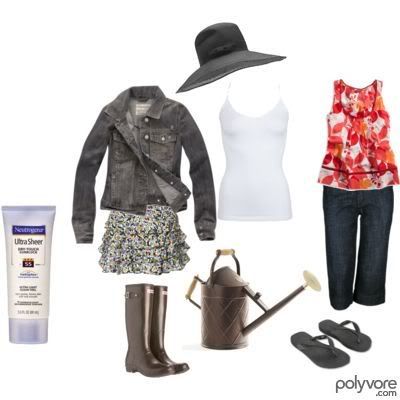 I never know what shoes to wear in the garden -- sometimes I'm stepping out in socks and sandals (GASP, I KNOW), and I'm considering getting a pair of strictly gardening shoes. The Hunter boots are so cool and would be great for rainy weather as well as mucking around in the mud. But at the same time, can't say no to Havaianas when the weather gets hot. (And you're out in the garden, not in the office or White House.)

As I said, my latest spring obsession's mini floral prints like the ones Luella showed for spring/summer (also, Ghost World as the collection's inspiration? holla!), so I picked a Luella-inspired floral mini skirt for one option, while I also picked a brighter, more summery top for the other option. I tried to balance it out with basics like dark denims (my favorite) and white tanks so it's not competing with your garden, either.

Finally, if you're going to be out in the garden, be sure to wear a fabulous hat and lots of sunscreen -- the sun may be helping your plants, but you don't want it to be hurting you, either!

What are you growing in your garden this year? Are you feeling the florals, too?

image from polyvore.com