This weekend, I made a potentially life-changing decision.

I made an appointment to have my hair straightened. Semi-permanently, chemically, hours-in-the-chair with saran wrap on your head straightening. Here in New York, there are pretty much two options for hair straightening: Japanese hair straightening, which takes anywhere from four to seven hours, and the Brazilian keratin treatment, which takes much less time. Both treatments will give you silky-smooth, straight hair for at least three months with the proper care and conditioning. At first, I was enamored of this new-fangled Brazilian treatment, having fully researched Japanese "straight perms" on the internet for the past few years.

Only two salons here in Manhattan offer the Brazilian keratin treatment, which I found suspicious, so I did a little digging--the active ingredient in the so-called "keratin" treatment is in fact not keratin (which you can find in regular shampoos, it doesn't do much) but FORMALDEHYDE. You may recognize this toxic, volatile chemical from many episodes of Six Feet Under, your favorite crime/medical procedural, and the lawsuits brought against FEMA for trailers that off-gassed the stuff in New Orleans. If you choose the Brazilian treatment, salons should give you a painter's mask to prevent you from inhaling the fumes, but the treatment is still under investigation by authorities and skin exposure to formaldehyde can be toxic.

So, long story short, I decided to stick with what I know, and what I know is Japan. (And, apparently, toxic chemicals.) My journey took me to the East Village on a rainy day, to a salon called YO-C, as in, "Yoshi." It was nearly impossible to find, with a barely-marked door, although I did manage to find a lovely tea shoppe in my travails. That's for another time. Today is all about my Japanese hair straightening transformation.
For your enjoyment, a "before" photo:

Taken with my cell phone in my bathroom. This was my hair in its natural state, washed, conditioned, and towel-dried. It's actually the longest it's ever been, when it's this curly there's not much I will put up with besides a little anti-frizz serum and a towel. The bangs worked way, way better when they were short enough to attack with a flat iron.
A close-up: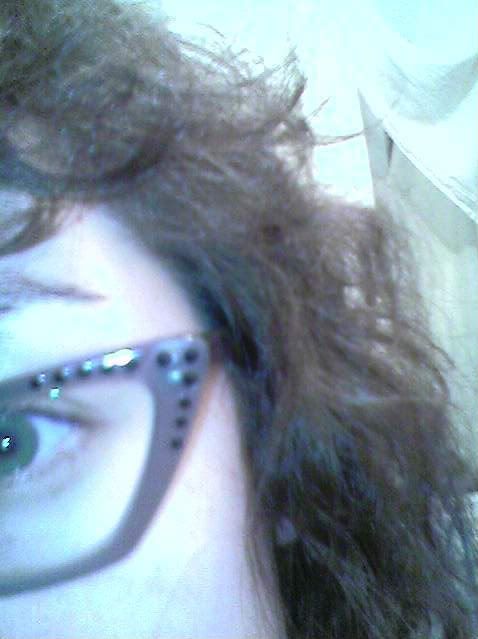 Here's the thing: I didn't always have wavy, frizzy hair. I was a sweet little cherub with straight, doll-like hair until the age of 11, at which point puberty hit me like a ton of bricks. A ton of hair-curling, frizzy-making, awkward bricks. Now whenever there is a drop of moisture in the air, I get the frizzies and curl that no amount of product or heated metal plates can tame. It was definitely out of control.

Until YO-C intervened. After four hours of massage (delightful!), washing, chemical treatment, washing again, conditioning, flat-ironing, cutting, chemical treatment, washing, conditioning, bang trim, and styling, I now look somewhat more like this:


The chemical treatment does leave a bit of a burning-chemical smell, not unbearable but noticeable. It's a small price to pay, because my hair is seriously amazing. My hair is so straight, so silky, so smooth and NOT FRIZZY. Definitely more of an explosion at the factory that produces AWESOME, wholesale. Definitely worth the time and money. There are a few rules for caring for post-straight permed hair, like no washing it for at least 48 hours, no putting it up for a week, no salt water, no hot spring water, no sleeping on it damp or wet. I liked the stylist at YO-C, he didn't push any product or special shampoos on me, and gave me a great, flattering cut. I've gotten a lot of compliments so far and survived three days of heavy, humid rains in New York without worrying about looking like a deranged clown. Most of the compliments have been from my female co-workers, not surprisingly. My male boss did walk by and do a double-take today: "Karen, did you...did you do something to your hair? What happened?" Wonderful. Very astute. Hopefully, this amazing hair will last for at least three months so I can get through summer!

If you're thinking about getting a Japanese straight-perm treatment, be forewarned that it may not work as well on damaged or recently treated hair (mine was so-called "virgin" hair, not dyed or permed in years and years...there was that one time in high school when I tried to go black and dark blue but ended up with reddish-black and greenish chunks, yikes). Until I found YO-C ($220 for straight-perm and cut, minus a 20% discount because it was my first visit to the salon), the cost of getting a straight-perm was prohibitive. Some salons charge upwards of $500! Definitely price-shop around. Ask for before and after photos from the salon to see how your hair compares with their experience. I knew going into it that I wanted a Japanese stylist at a Japanese-owned salon, as Japan-trained stylists have far more experience with this type of treatment and the service is always top-notch. Some people find the language barrier a problem, ahem, luckily this is one of those situations in which being from a bi-cultural, bilingual family surely pays off.

Take care of your hair before you go in for a straight-perm, start using a deep-conditioning product after every hair wash. Considering that the treatment is really just damaging your hair enough to force it into a different texture and style than its natural state, you'll want to make sure your hair is as healthy as possible. My stylist recommended Liese brand shampoo for straight-permed hair (site in Japanese, you may be able to find their products at your local Japanese grocery store). I took a stroll through the ol' shampoo section at the drugstore this evening and landed on a new brand for me, Klorane's safflower shampoo for treated hair. It lacks the flowery perfumed scent of the big-brand shampoos that claim to be hydrating, so if you are sensitive to fragrances, this is a great one. Jeanne recommended camellia oil to me the other day, I may check out that possibility in the future.

What do you say? Was it a good investment? A miraculous transformation, perhaps? I do have that new pair of robin's-egg-blue vintage cats-eye frames to wear instead of my grey geometric ones...hmm...