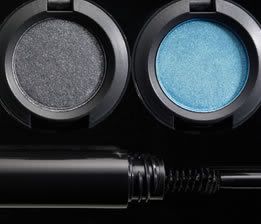 The teal smoky eye is one of my absolute favorite eye-makeup looks on me. I love teal in general, it's a great color for my skin and eyes, but wearing MAC parrot alone on my eyelids can be a little terrifying. It's a bold color, and I'm a fan of a more natural makeup look.

And smoky eyes? I love them, but I can't pull off a pure black smoky eye. I have to use grey shadow in place of the black so I don't look like a five year old who popped into her mom's makeup drawer and went at it.

The solution? Colored smoky eye. Love it. For me, a teal eye with brown mixed in, paired with brown liner and mascara works best, but teal with black also looks amazing. Check it out over at The Makeup Bag-- she's got the backstage report from Lela Rose here, with gorgeous teal and black smoky eyes.

Here are some other suggestions from the runway: NYmag.com covers the Pinky-Red smoky eye, while Fashiontribes dishes on the Purple Smoky eye at Rag and Bone. For a classic update, check out the brown smoky eye and tutorial at makeup and beauty blog.

My picks for teal shades?
Mac Parrot or Boots Organics in Angelica (pigment isn't as intense, but far cheaper and easily accessible-- go Target!)

And to play around a bit, layering Stila's Kitten with a darker brown shadow would make a cute shimmery brown eye, great for a day to night look.

Pair your smoky eye with a pink lip for best results (red lips with the teal just look a little too Christmas tree for me.) I like MAC's Utter Pervette or Lancome's Pixel Pink with this look, but a nude or clear lip also works well.

What's your favorite color to rock the smoky eye with? Let us know in the comments!

Image from maccosmetics.com.