Today's outfit looks better on the digital, fake mannequin below than it does on me. Thank you, mirrored elevators at work, for letting me know that. I tried mixing shades and patterns in grey rather than adding a third color to punch it up. Thoughts?


Well, truthfully, I've lost my red quilted leather Swatch watch and thus, the outfit lost its great potential for punchiness. Still! The highlight of today's ensemble is the skirt, which is underrepresented by Polyvore...I snagged it for a song at one of those outlet malls with a Banana Republic, and the best part is the big brass buttons on the front. What could have really made this outfit pop was if I replaced the dinky lame plastic black buttons of my cardigan with tiny vintage brass buttons. Shame, for I have baggies full of vintage pearl buttons at home in California! The best place to get these are flea markets, large but crumbling antique malls (mine in California has great big Mason jars full of them), and estate sales. This skirt's buttons are a nice burnished brass, like Civil War-era Army pins and Roman coins.

The scarf is similar to the one above but tied close and high up on my neck, it's an old Echo light-grey herringbone patterned number, probably purchased for about $0.50 at a local vintage shop. I tend to gravitate to the silk-scarves section of used- and vintage-clothing stores, not to mention the hats and brooches! I adore and underutilize accessories. The sunglasses are an old pair of tortoiseshell Kate Spades with prescription lenses, of course, that I wear around to feel a little incognito in the big city.

The tanktop you can't see is horizontally striped in grey and black to keep with today's somber palette and contrasts (clashes?) with the geometric-patterned grey tights. I like the play of line and form in this, culminating in a soft, business-y high ponytail and side-swept bang, all the way down to the fabulous Jeffrey Campbell spectator heels. If the skirt were a wiggle skirt and all that black replaced by fuschia or peacock colors, it would be reminiscent of the super-chic, super-fabulous Joan from AMC's Mad Men (see photo).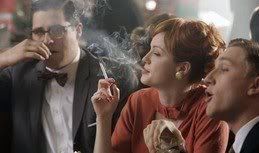 I could just be saying that because I caught up on the first season, and let me tell you, that show is PURE GOLD FASHIONSPIRATION (fashion+inspiration=FASHIONSPIRATION). Look at how cute they all are!

In summation, I will say that thank goodness it's Friday finally, and wish everyone a fabulously glamorous weekend!

Note: The Periodic Elements of Style knows that smoking is hazardous to your health, and does not encourage the smoking of pipes or cigarettes. It's just that everyone stylish seems to do it, and we're looking at the clothes, not the tobacco. Thank you.

Images courtesy of Polvyvore.com and AMC.com.