As always at this time of year, I'm a little over excited for the coming of spring. Finally, I can ditch the coats and step out in just a hoodie (spring showers!) or a cardigan.

I hate wearing coats. I love to look at them, love the idea of them, and I'd probably have a closet full of them if I didn't hate wearing them so much. For me, having to wear something for three months out of the year that I have to take on and off constantly? I just don't have the patience for it.

And accessorizing an entire outfit that has to look good both with every possible permutation of the outfit? Ugh.

So for me, Spring is all about simplistic wardrobe choices- bright colors, catchy patterns, and less layering. Here are the wardrobing things I'm most looking forward to wearing with the warmer weather.



Blue and Green Toes: I have been obsessing over color lately, as I'm sure faithful blog readers have been able to tell. So is it any surprise that colored nails are on this list? I've been rocking the blue nails all winter, and this weekend it's time for green (celebrating my tiny bit of Irish while avoiding pinches? Awesome.) But Spring is definitely my favorite time to wear the vivid shades. Everything seems new and fresh, and maybe that's just because it's the first time seeing anything in the sunlight in six months. What I've been wearing? Sephora's #55 (pictured,) Chanel's Blue Satin, and Rescue Beauty Lounge's Recycle, and I'll be testing out China Glaze's For Audrey soon! (Thanks Jeanne!)



Open toed shoes and sandals: These are on my to find list this season. I haven't had a pair of good sandals since my beloved rainbow flips died (yes, I was in high school when I bought them, and yes, they lasted well into college.) I've been wearing converse year round, with the occasional stopover into flats. While there's nothing wrong with flats or Converse in my opinion, (Jeanne will disagree,) sometimes I just want to throw on a cute sandal and be out the door. My toes want to see sunlight too!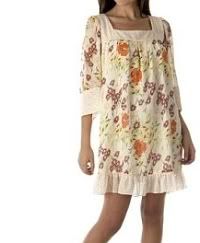 Skirts and Dresses: Now obviously, tights mean you can wear your skirts year round, but I so rarely see anyone rocking them in winter. And tights don't look great with open toed shoes, which go great with dresses. I am loving Target's selection online of cute spring-y dresses-- sometimes their clothing section is hit or miss, but I think it's hit this season! Pictured is a Jovovich-Hawk for Target Floral dress. Other dresses from Target I'm digging? This cute wrap dress from Converse and this fun tunic dress from Mossimo.


I am also excited to see what crazy fashions they're going to throw our way on the Sex and the City movie (although if they're anything like this dress off the set of Shopaholic... do not want!) and whether Blair's going to keep working the headbands on Gossip Girl or start some new trend. What are you all most excited about for spring, fashionwise or other?

Images from Sephora.com and Target.com