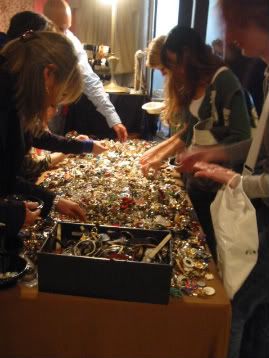 For years, I've always meant to go to the Vintage Fashion Expo. But it's one of those things that kind of pops up in your conscious as "Oh yes, I wanted to go to that... when was that again? Oh, I missed it?"

So when I found out that it was coming up last week, I contacted Elle and asked her if she'd be interested in going with me just to go check it out. Needless to say, we wound up walking up Nob Hill (!!!) on a lovely San Francisco day to check out some amazing vintage vendors.

As soon as we walked in the back door, we discovered a huge table full of loose earrings, pins, pendants, and rings with bowls to fill with found treasure at 25 cents a piece. Knowing we'd get sucked into it, we did a full circuit of the exhibit hall before returning. (If anyone knows the name of this vendor, I don't! Heartbreaking!)

The variety of clothing and pieces was amazing, ranging from Aubergine's selection of vintage European exports (including awesome fedoras and slips in the most incredible colors) to Bakelite jewelry (including a gorgeous pair of "apple juice" stud earrings that I just couldn't justify spending $95 on) and incredible hats. In addition to selling vintage clothing, Anna Newman Vintage runs an Etsy store full of vintage patterns sorted by bust size (super-helpful!!).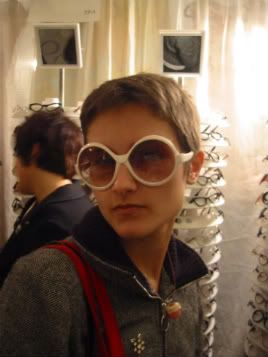 The things I loved most at the expo? Seeing all of the designer pieces, including a stunning vintage Vivienne Westwood sleek pinstriped dress, was definitely at the top of my list. The amazing array of jewelry, from costume to estate, was incredible. (The juxtaposition of me wearing my Pancake Meow cupcake necklace while cooing over estate rings amused at least one vendor.)

I will say, though, that the one thing that truly made me gasp and squeal with joy (besides the Vivienne Westwood) was the Allyn Scura booth full of deadstock glasses frames. OH. MY. YES. I had a blast trying on glasses, and nearly fell in love with a pair of sunglasses (not these ones, but they sure are great!). I've been thinking about going to the Alameda Pointe Antiques and Collectibles Faire ever since I read about it in Apartment Therapy San Francisco, but now that I know that Allyn Scura is a regular vendor there, I will definitely have to make the journey out to Alameda, especially since Fashioni.st has been taking amazing photos there. And even the San Francisco Chronicle is writing about it, which only means that more people are going to show up at the next one...

The next Vintage Fashion Expo is in Santa Monica on May 10th and 11th, then returns to San Francisco in September. It's definitely worth checking out if just to see the vintage outfits that a lot of the attendees and exhibitors are rocking -- I saw the coolest apple green wedges on a girl in the Aubergine booth. (Speaking of which, I need to scoot up to Sebastopol/Occidental and check out the shop!)

In short, totally inspiring and a lot of fun, even if I only came away with some photographs and a lot of business cards and things to check out (Alameda and Aubergine, mostly!). Elle got a rad fedora and three earrings from the Jewelry Pile, so we didn't leave totally empty-handed. It was a great way to spend a couple of hours on a Saturday in the city.

images from periodicstyle.blogspot.com