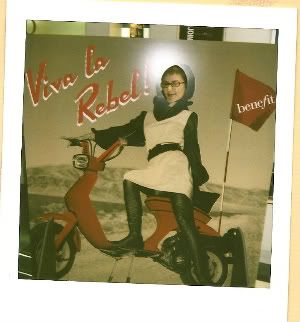 As I mentioned about two weeks ago, BeneFit Cosmetics held their Viva la Rebel! spring event at Sephora on Powell Street in San Francisco this last Saturday, where they were giving makeovers and had entry forms to win a dragon red (!!) Vespa.

I have had many a BeneFit makeover before, but it's been a while -- I think the last time was in summer of '06, when Karen and I went to a local Obon festival afterwards. Needless to say, BeneFit's had a lot of new products come out between then and now, and so it was neat to see what was new and to get to try some things that I was curious about.


One of the products I bought from my makeover was That Gal, a pale pink primer. I've used a couple of primers before, including Philosophy and Napoleon Perdis (which Kati swears by -- I'm not fully convinced). And when it first came out last year, I thought, "a primer stick? What? How is that going to be useful at all?" But it's a creamy liquid primer -- you crank the bottom and it comes up through little holes, much like a click-pen lip gloss or concealer. (Which, in the interest of full disclosure, I don't like. Probably because they click up and through a brush, so it's harder to see if how much, if any, is coming out.) It smells like berries, which may be a good thing or a bad thing, depending on how much you like fragrant products (the scent goes away after you apply it). My only concern is with the packaging -- again, not a huge fan of clicking products, and there's only 0.37 ounces in that little "stick". Aiyeeeee. A little goes a long way, but that's not a lot of product for $27.

I also picked up You Rebel Lite; last spring, when I was shopping for tinted moisturizers, I considered the original You Rebel, but figured it would be too dark for me. Really, a tinted moisturizer that's supposedly one shade fits all? I wasn't sure about that, so I opted to go with DuWop's Revolotion instead. That said, I'm glad that there's now a lighter option for You Rebel. I haven't worn it enough to truly compare it to Revolotion, but so far I'm digging it. It doesn't have that straight-up sunscreen smell that Revolotion has, but the true test of time will be if it separates out like Revolotion into lotion and an orange-gold oil (which is... kind of gross, actually).


Finally, I picked up California Kissin', the blue peppermint lip gloss. It really is bright blue, but you can't tell when it's on unless you're looking directly at your lips in close-up -- then you can see the shiny blue particles. Does it make my teeth look whiter, as promised? Maybe! I definitely can see how it would, but I didn't pay enough attention. But I can say that it's very pretty when layered over Benetint, and surprisingly long-lasting and moisturizing (which is good for using with Benetint, which I find to be pretty dry and comes off easily on its own when used on the lips).

So does it all come together? I'd say so; I tried out my new products the next day when heading out to the ballet, and I got compliments on my skin ("flawless!" which, I assure you, it's really not) and my lip color ("perfect").

Will I get that shiny red Vespa? I don't know -- there are two more events, one this Saturday at Sephora Times Square and one next week in Aventura, Florida, so if you're in the neighborhood of either of those Sephoras, that Vespa could be yours instead of mine...

images from periodicstyle.blogspot.com and benefitcosmetics.com