I've had a one track mind lately. I've been playing a ton of pupe.jp lately (I blame Jeanne!) and all of my uploads have been giving me adorable spring time dresses (go here if you need a primer on pupe.jp!) So, I figured, why fight my desire to talk about cute dresses all the time? Clearly the universe wants me to talk about them. So here's a couple of cute dresses, all under 50 bucks.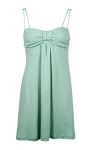 Bow Tie Dress from Charlotte Russe
I wore this dress in red to a formal, but I was ridiculously underdressed, and hello, SO CUTE IN GREEN. It's also super comfy to the point that I didn't care that I was underdresssed.



Polka Dot Dress:

This dress is very 50s housewife meets 70s acid tripper, and I love it for it. The polka dots are insane! I love the detailing on the bodice too, and the wide waistband.



Floral Halter:

For everyone who likes their clothing a little more sedated, this dress is perfect. Adorable white halter with an elegant floral pattern coming up from the hem.



Cute Cloud Dress from Urban Outfitters:

This one is slightly more spendy (but still under 50 bucks, as per my requirement to be featured on cute cheap dress posts) but I can't resist the adorable clouds on this dress that look like something out of a Japanese woodblock print. The braided straps are fun too. If it wasn't a babydoll dress, I'd buy this in a second flat (as it is, I'm still very tempted.)

Now I just need to pick which one to buy!

Images from charlotterusse.com and urbanoutfitters.com.