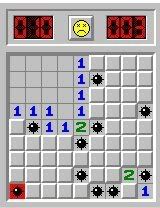 This is the first of a new regular feature here: A monthly mix cd! I'll be posting mix playlists the first Saturday of every month, and today it's a themed workout mix. It's inspired by the fab song "The Bomb" from New Young Pony Club, and all the songs are playing off the dual nature of the word. (Thanks due to palmsout.blogspot.com for posting the remix of the song that inspired this mix, see link below!)

This was an interesting mix to make-- I've played around with themed mixes before, but never on a workout mix, and it was tough finding enough up-tempo songs that fit the theme! Hopefully this isn't too slow overall, I'm taking it for a test run this afternoon!


16 songs, 56 minutes (includes warm-up, cool-down and stretching.)
A-Side (The Bomb)

1. The Gorillaz, "Kids With Guns" (stretch/warmup)
2. Gwen Stefani, "Danger Zone" (stretch warmup)
3. The Killers, "Under The Gun" (moving into cardio)
4. Beastie Boys, "Sabotage"
5. Metric, "Monster Hospital"
6. Moby, "James Bond Theme"
7. New Young Pony Club, "The Bomb"

B-Side (You Know You Really Were)

8. O.K. Go, "You're So Damn Hot"
9. Arctic Monkeys, "You Probably Couldn't See for the Lights But You Were Looking Straight At Me"
10. The Faint, "Desperate Guys"
11. The Veronicas "Untouched"
12. Bikini Kill, "Capri Pants"
13. Dandy Warhols, "Bohemian Like You"
14. New Young Pony Club, "The Bomb (Phones Edit)" (cool-down)
15. The Promise Ring "Best Looking Boys" (stretch)
16. Explosions in the Sky, "So Long, Lonesome." (stretch)


image from periodicstyle.blogspot.com.