Jeanne:

Throughout the year, I kept a running tally in my mind of my favorite things just for this post. I'd be applying lipstick and I'd go, "Oooh, I like this. This is going to go on my best of '08 post!"... in March.

So here we go!

- Charred eyeshadow from MAC Originals - This was released in late '07, so technically it's an '07 pick, but it hung around on MACCosmetics.com for a while, and it hung around in my make-up box for a while too. But this year I took it out, played with it, and realized it makes for an awesome, awesome, and easy smokey eye. I love it.

- Strawbaby lipstick from MAC Fafi - This is from... February?, and is a coral pink/red with rainbow pearl. I love it, as I tend to do well with corals, and was stoked that in Cult of Cherry, there was a very similar lipgloss (Rich'n'Ripe) to Strawbaby. (My only complaint with Strawbaby, and the rest of the Fafi lipsticks, was that the decorative sleeve slips off of the tube.)


- A TIE: Mure et Musc Extreme and Dzing! from L'Artisan Parfumeur - I went poking around a beauty boutique in the spring, wasting time before having to be somewhere, and I was eying the L'Artisan shelf. The saleswoman (who I think might have been the owner, or at least the manager) talked to me about perfumes and I said things like "oh, I like citrus, I like flowers..." She sent me away with samples of Mure et Musc Extreme, Dzing!, Ambre Extreme (nice but not for me), and La Chasse aux Papillion. Of those four, only La Chasse Aux Papillion smells like flowers; the rest are musky, leathery, smoky, and AWESOME. I fell hard for Mure et Musc Extreme (blackberries and musk) and Dzing! (supposed to smell like the circus, smells like AMAZING). I took my mother to Barney's fragrance counter to find a new cologne for my brother (we got him Navegar, and when the sales rep took us over to the L'Artisan counter, I said, "Oh, Mure et Musc Extreme, that's a perfume I want for Christmas..." and so I now have a lovely full bottle. Dzing! will be my next one.

- Triple Oxygen Instant Energizing Mask from Bliss - I went in to Bliss for a facial in January (since I had a day off in the middle of the week) and while I almost had a minor claustrophobic freakout, I really did like the Triple Oxygen mask (even though it was a little creepy). I first tried out the little travel-sized one from the Travel/Trial Essentials kit, and then went for the full size afterwards. I like how my skin feels after using it, I like the smell, and I like watching it foam up and then all the bubbles popping on my skin. Woo!

- China Glaze, period - This was the year that China Glaze rocked my socks off. I love OPI, but I kept reaching for China Glaze's fun colors over and over this year. From For Audrey to Ruby Pumps to Rodeo Fanatic to Tree Hugger to the entire Bahama Blues collection, I had to have all of it this year. And the best place to get it, I found, is Head2Toe Beauty.


- Imperial Bedroom palette from Fresh - I mentioned this in the second Sephora University post, but this is a great little palette. Sometimes when you get a palette of something, you only use one or two colors, but this is a complete face right here. I've used this for going out, for Halloween, for Christmas eve, for everything. It's easy to throw this (and an eyeliner brush) into an overnight kit and just take it traveling with you.

- SkinFlash from Dior - I just told you all about this magic trick illusion, but it has absolutely been a lifesaver for me and my dark undereyes. I use it pretty much every day if I'm going to be leaving the house for any reason.

- Laura Mercier Tinted Moisturizer with SPF - I've been trying out tinted moisturizers left and right, since I want decent coverage without looking cakey and SPF without it smelling like sunscreen (I'm looking at you, Revolotion!). And I think the Laura Mercier is the best one I've tried out. I'll dust some powder over and my skin looks amazing, which pleases me (as it is not amazing).

Karen:

Hi, folks! It's not often that I get all ga-ga over beauty products. This year, mostly thanks to Ms. Jeanne up there, I've invested a bit more time and energy into finding the right products that are worth my hard-earned dollar. I like to parse out my products sparsely and hold onto them for ages and ages--case in point, I've been using the same Neutrogena MoistureShine lipgloss in Chic for probably the last five years. Definitely at least three, since I had to throw out the last one at my brother's wedding when another bridesmaid PICKED IT UP AND USED IT...in 2004. Isn't that just terrible? Here are a few of my favorite products from 2008 that have left a good impression:

- Rimmel London 60 Seconds Nail Polish in Delicious Dark. Believe me when I say that I have tried every brand and shade of dark-purple nail polish on the market today, only limited by price. (I refuse to pay over $7 for a bottle of nail polish I'll inevitably spill.) Rimmel's quick-drying polish took a few coats and a very steady hand to achieve a chip-proof end result that was positively dramatic. The paint job lasted a good ten days until a bout of dishwashing and stovetop-scrubbing caused some chips.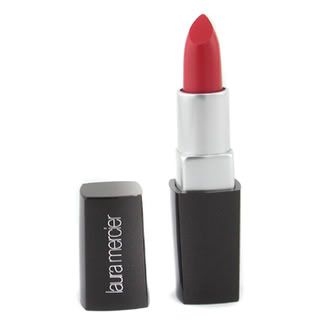 - Laura Mercier Lip Colour Creme in Mistress, a la Joan Holloway. This was a lovely, lovely gift from Jeanne and I've worn it for work and play at least three times a week since she gave it to me! It truly brightens up my face without looking garish or too orangey-pinky. I feel like a fancy-schmancy lady when I wear lipstick instead of just chapstick, doubly so when I get to use Laura Mercier's.

- The Almay Bright Eyes Liner/Highlighter Duo is super smooth and easy to use, I keep one in my purse when I don't have time to put on makeup in the morning before I leave for work. The two ends are very complementary and frankly, I like the way it looks when they smudge together for a shiny, smokey eye.


images from artisanparfumeur.us, fresh.com, and strawberrynet.com